Tech-heavy Nasdaq posts longest winning streak since dot-com bubble
Published time: 16 Feb, 2017 09:35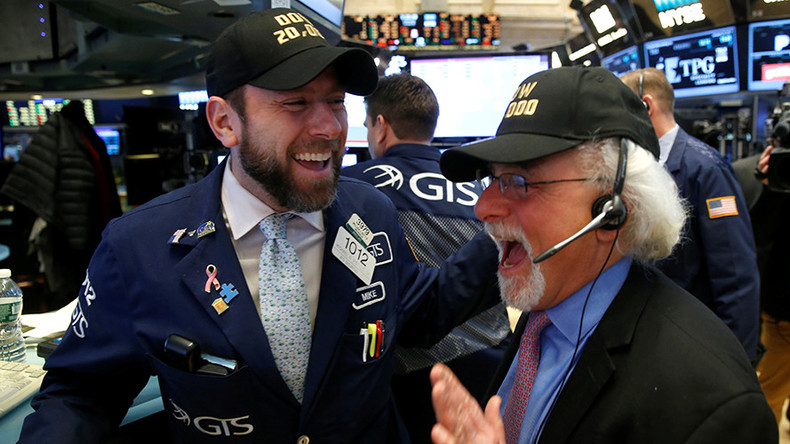 The American technology-based index Nasdaq is experiencing its longest run of gains in more than 17 years. The last time a pattern of rapidly rising equity markets fueled by investment in Internet-based companies was in 1995-2001, known as the dot-com bubble.
On Wednesday, the Nasdaq posted an all-time high, finishing the day with a 0.64 percent gain, closing at 5,819.44 points.
"The Nasdaq has not seen a major new high, which is to say a breakthrough of a big round number, since way back in 2000. With [Wednesday's] strong move up, we are getting very close to the next one, at 6,000," Brad McMillan, chief investment officer at Commonwealth Financial Network told MarketWatch.
To investors, 6,000 points is a significant milestone.
"I don't want to say it's euphoria, but perspective is being lost because we hit new numbers every day, but the fact that the Nasdaq is approaching 6,000…I think people will look around and go 'Holy, cow! We actually are looking at 6,000,'" said Michael Antonelli, trader at R.W. Baird & Co.
Just three weeks ago, another US stock index – Dow Jones – hit a historical 20,000 points milestone, but has only extended the gains since then and is now approaching 21,000. The S&P 500 index is also at record highs.
It's the first time in 25 years when all three US stock markets are posting a new record five days in a row.
According to David Wessel, a senior fellow in Economic Studies at the Brookings Institution, what's happening in the markets is just "what's going on in the minds of stock investors and traders."
However, it also means that US President's Donald Trump's policy - tax cuts, more infrastructure spending, less regulation – makes investors more optimistic, he added.
"Whether you like President Trump's policies or not, all the measures of business confidence, not only the stock market, but surveys, measures of consumer confidence have gone up a lot. And that's important because we know that when people feel better about the economy when they're more optimistic, consumers are more willing to buy, businesses are more willing to invest. And that can become a self-fulfilling prophecy," Wessel told NPR radio.
The economist warned there is a possibility the US stock market bubble could burst, if "President Trump and the Republican Congress can't deliver the goodies or that they're going to get more of the baddies."
On Thursday, MSCI's index of Asia-Pacific shares outside Japan rose 0.2 percent to its highest since July 2015. European markets were slightly down, with the British FTSE100 losing 0.21 percent, while Germany's DAX and the French CAC40 were down less than 0.1 percent.