Mining giants face homicide charges over Brazil dam disaster
Published time: 21 Oct, 2016 10:39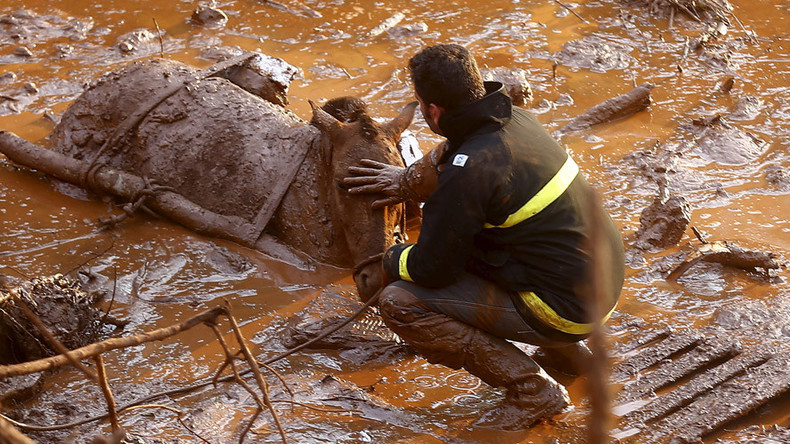 Brazilian prosecutors have filed homicide charges against 21 people over a mining dam collapse a year ago that killed 19 people and left hundreds homeless in the Minas Gerais region.
Among those charged include current and former top executives of mining companies Vale and BHP Billiton who jointly owned the Samarco mine. If found guilty of qualified homicide, the individuals could face sentences of between 12 and 30 years in prison.
Prosecutors claim employees of BHP and Vale knew there was a risk of collapse but ignored it, prioritizing their profits over the safety of local people. The companies have denied the charges and said they would defend their staff. They also accused prosecutors of ignoring the evidence against those claims.
"BHP Billiton Brasil rejects outright the charges against the company and the affected individuals. We will defend the charges against the company, and fully support each of the affected individuals in their defense of the charges against them," said BHP.
Vale said it "vehemently rejects the charges" and that the evidence showed there was no knowledge the dam could fail before the collapse.
It's been almost a year since millions of tons of muddy mine waste were released when a dam collapsed in the southeastern Brazilian state of Minas Gerais. The sludge washed away villages, displaced hundreds of people and traveled more than 400 miles through Brazil's Rio Doce basin before reaching the Atlantic Ocean. The Rio Doce is still tainted with rusty red sediment.
Some critics compare the disaster with the oil spill from the Deepwater Horizon oil rig in the Gulf of Mexico.
The mining companies have reached a deal with Brazil's environmental authorities to establish an institute that will help clean up the pollution and rebuild some communities over the next 10 years. Prosecutors are less willing to compromise as people affected by the disaster say they are still awaiting compensation.
"I lost my land and my parents lost everything. My family has lost its income, which came from producing milk. I haven't received any compensation," Maria do Carmo Dangelo, a farmer whose land was hit by a wall of mud 45 miles from the dam, told the Guardian.