ECB leaves interest rates at record lows, hints at more stimulus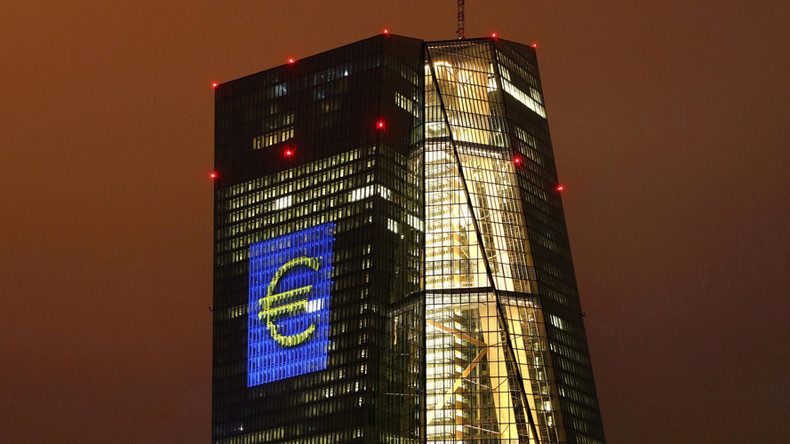 The European Central Bank has announced it is leaving the eurozone quantitative easing (QE) program and interest rates unchanged, in line with investor expectations. The benchmark rate will stay at zero.
The deposit rate was also left at its current record low of minus 0.4 percent which means banks will still be charged to leave money in the ECB's vaults.
Draghi: Low interest rates work, like they have worked in other policy jurisdictions

— ECB (@ecb) October 20, 2016
"The Governing Council continues to expect the key ECB interest rates to remain at present or lower levels for an extended period of time, and well past the horizon of the net asset purchases," the ECB announced.
ECB President Mario Draghi said at a news conference in Frankfurt "we discussed low interest rates during our assessment of the economic situation, and our conclusion was that they don't hinder the transmission of monetary policy." Low interest rates work, he added.
The ECB also decided to continue its QE program at €80 billion per month. The decision on prolonging asset purchases scheduled to end in March has been delayed.
Draghi said inflation is expected to pick up over the next couple of months, aided by higher oil and energy prices. There's still no sign of an upward trend in the underlying inflation trend, according to Draghi.
The eurozone continued to show "resilience" to economic and political uncertainty, he added.
The ECB president said the bank could agree new stimulus measures at its December meeting.
The single currency dropped to its four-month low following Draghi's speech. The euro was at the lowest level since the UK's EU referendum in June, trading at $1.0950 as of 1:50 pm.
European stock markets also slipped, with the Stoxx Europe 600 Index down 0.3 percent at 341.72. Germany's DAX and France's CAC 40 were little changed. The UK FTSE 100 fell 0.3 percent.