Russia partially lifts ban on fruit imports from Turkey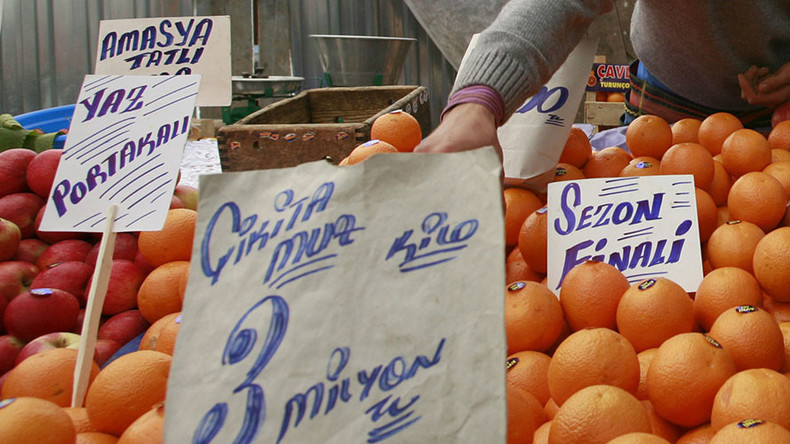 Moscow has decided to resume buying some fruits from Ankara, as the countries' relations continue to thaw after last year's dispute over a downed Russian jet.
On Tuesday, Russia allowed imports of Turkish oranges, tangerines, apricots, peaches, plums and other fruit.
The decision was reached during Monday's meeting between the countries' presidents on the sidelines of the World Energy Congress in Istanbul.
"This is a mutually beneficial solution. Russian agriculture does not produce such products. The arrival of these Turkish products on the Russian market will expectedly slash prices in Russia," said Russian President Vladimir Putin.
The ban on grapes, apples, pears, strawberries, as well as vegetables and poultry remains in force. Moscow has repeatedly stressed that the ban on deliveries from Turkey will be removed in stages, after thorough safety checks.
Thus, next week specialists from the Russian agriculture watchdog Rosselkhoznadzor will pay another visit to Turkish food companies. According to the watchdog's spokesman Aleksey Alekseenko, the decision on the vegetable ban will be made after the inspection.
Food imports from Turkey were blocked as a response to the downing of a Russian jet in Syria last November. There were other restrictions, including a cancellation of charter flights to Turkey, introduction of a visa regime, and a ban on hiring Turkish citizens. At the request of the Kremlin, Russian travel agencies suspended sales of package tours to the country.
Moscow-Ankara relations began to improve after Erdogan's apology over the jet incident.
You can share this story on social media: