Oil prices surge as Putin says Russia ready to support OPEC production freeze or even cut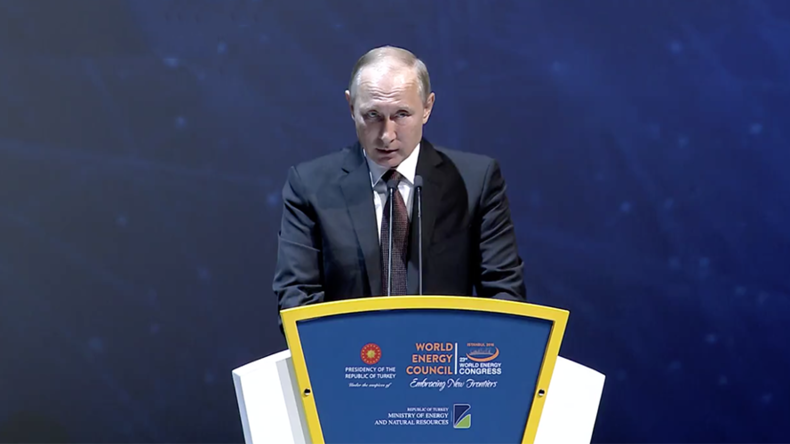 Russian President Vladimir Putin has said Russia will join the deal to cut global crude output. Oil prices gained over three percent after the announcement on Monday with Brent crude reaching $53 per barrel and WTI trading above $51.
"We support the recent initiative of OPEC to fix oil production limits. We hope that at the OPEC meeting in November, the idea will be embodied in an official agreement, giving a positive signal to the markets and investors," said Putin at the World Energy Congress in Istanbul on Monday.
The Russian President added that the era of oil and gas will not come to an end in foreseeable future.
"The demand for traditional energy supported not only the motorization and electrification of such huge countries and economies as China and India, but also by the continuing participation of oil and gas products in the most diverse areas of human life, in industrial processes," he said.
Oil prices surged over a dollar after Putin's speech. The North Sea benchmark Brent was trading at over $53 per barrel, rebounding from Monday morning losses. The US benchmark West Texas Intermediate reached $51 per barrel.
Oil producing countries want to reduce the global glut of an estimated 1.0 million to 1.5 million barrels per day (bpd). On September 28, OPEC agreed to curb production by 700,000 bpd.
The details of how the production cuts will be shared are still to be worked out at the next OPEC meeting in Vienna on November 30. OPEC also needs to convince oil producers outside the group like Russia to participate.
Russian Energy Minister Aleksandr Novak said Moscow favors the idea of a global oil production limit, but added it's profitable for Moscow to freeze production at September's level. Last month, Russia pumped a record volume of oil, exceeding 11 million bpd.
You can share this story on social media: