UK manufacturing output at highest since 2014
Published time: 3 Oct, 2016 14:39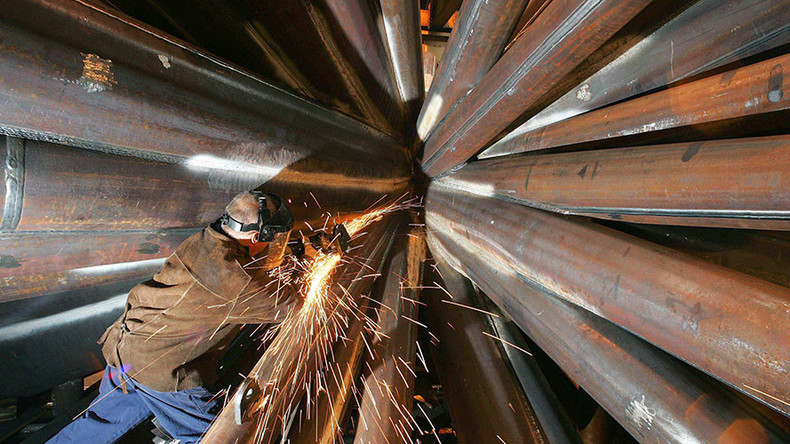 Britain's manufacturing sector has posted its fastest growth in over two years as the weak pound boosted exports, IHS Markit reported on Monday.
According to the report, the UK Manufacturing purchasing managers' index (PMI) surged to 55.4 in September, up from 53.4 in August, and above expectations of 52.1.
A figure above 50 indicates expansion. The PMI dropped to 48.3 in July, the first month after Britain voted to leave the European Union.
Growth was led by the consumer goods sector, where output rose at the quickest pace in eighteen months, the report said.
"The rebound over the past two months has been encouragingly strong, and puts the sector on course to provide a further positive contribution to GDP in the third quarter," said Rob Dobson, senior economist at IHS Markit.
The manufacturing sector growth encouraged companies to take on additional staff during September. Employment rose for the second straight month, after declining throughout the earlier part of the year.
Export orders jumped at their fastest rate since January 2014 as the weak pound was helping UK firms sell their goods overseas.
"The weak sterling exchange rate remained the prime growth engine, driving higher new orders from Asia, Europe, the USA and a number of emerging markets," said Dobson.
David Noble of the Chartered Institute of Procurement & Supply said in addition to the weak British currency "it was largely domestic orders that fueled the rise in overall activity."
A weakening of the pound, however, also increased the cost of goods imported into the UK, pushing up firms' costs "at a double-digit annual rate," the report showed.
Sterling slid to a three-decade low on Monday as fears of a 'hard' Brexit intensified following Prime Minister Theresa May's pledge to formally start the country's exit from the EU by the end of March 2017.