Commerzbank plans significant job cuts in major post-bailout overhaul
Germany's second biggest bank, Commerzbank has announced plans to cut 9,600 jobs, or a fifth of its workforce, over the next four years. The move is part of a restructuring plan put in place after the bank's bailout. Commerzbank will also suspend dividend payments for the first time.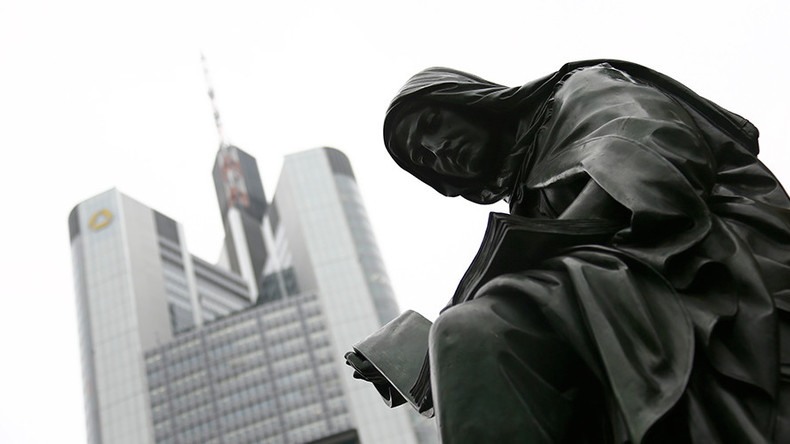 As part of the €1.1billion overhaul, the bank will combine business operations and cut costs to offset the impact of low loan demand and negative ECB interest rates.
As well as shifting to digital banking, it will concentrate on private and small business customers as well as corporate clients.
Board members aim to achieve "sustainable profitability" by the end of 2020, the statement said.
"Profit volatility and risks from regulatory changes will be reduced and capital freed up for the core business" with the retreat from investment banking, Commerzbank said.
Along with cutting 9,600 full-time positions, the bank plans to create about 2,300 new jobs in areas of business growth.
Last year the bank reported a profit of €1.06 billion, and paid its first dividend in eight years at 20 cents per share.
Commerzbank is 15 percent owned by the German government, which helped it during the financial crisis in 2008.
The bank's announcement comes at a time when Berlin has to decide whether to rescue its biggest lender Deutsche Bank which is facing a $14 billion fine from US regulators. Deutsche Bank is also expected to slash almost 9,000 jobs worldwide and 200 branches in its home market.
The problems at Deutsche Bank have raised questions about the health of other big European lenders. Some analysts are worried the bank's woes could invoke a financial crash even bigger than in 2008.
You can share this story on social media: