Ukraine to launch serial production of world's biggest aircraft together with China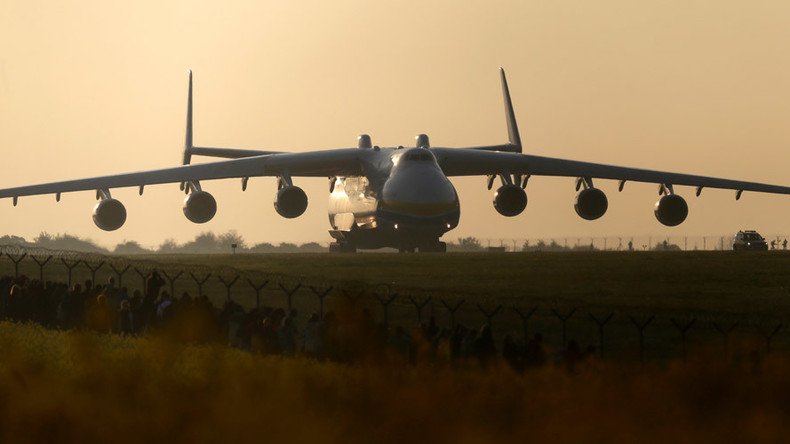 Ukrainian aircraft manufacturer Antonov and China's Aerospace Industry Corporation have signed a deal which will facilitate the serial production of the world's largest aircraft, the AN-225 Mriya ('Dream'), in China.
Negotiations between the two enterprises have been held since May 2016 and the deal was signed on August 30 in Beijing.
"On August 30, Antonov [Company] and Aerospace Industry Corporation of China (AICC) signed an agreement on cooperation on the AN-225 project," Antonov's press service said in a statement, UNIAN news agency reported. The company added that cooperation between the two companies include the projected construction of the second aircraft of its kind in Ukraine and its handover to China at the first stage of the project, as well as the creation of an aircraft production line under a Ukrainian license in China at the second stage.
Representatives of Antonov Company told UNIAN that each stage of the project will be implemented under a separate contract. The two companies did not reveal any further details about the agreement and said nothing about the project deadlines or the planned numbers of the AN-225 aircraft set to be built in China.
Earlier, China's CCTV Channel said on its Facebook page that Antonov Company sold all manufacturing rights and technological documents for the super-heavy air freighter AN-225 Mriya to the China Aerospace company. It added that the first AN-225 could be produced in China as early as in 2019.
Antonov's press service dismissed these reports as untrue.
In May, Antonov's deputy head said that Ukraine had been considering launching joint manufacturing production with China and was planning to invite Chinese investors to the project. On Wednesday, Antonov refused to make any comments on the deal and said that it will publish additional information about the negotiations with the Chinese company later, after its delegation returns from Beijing.
AN-225 is currently the biggest aircraft in the world, with a takeoff mass amounting to 640 tons and a working load of 250 tons. It was developed in the former Soviet Union in the 1980s and was initially designed as a carrier for the Soviet Buran (Snowstorm) space shuttle.
The only existing AN-225 aircraft took its first flight in 1988 and is now operated by Antonov Airlines, which is a part of the Antonov Company.
You can share this story on social media: