IMF predicts 700% inflation, 10% GDP contraction in Venezuela this year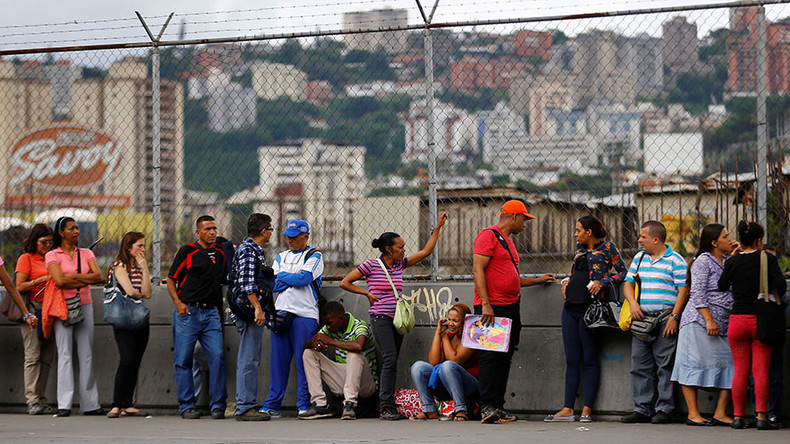 Venezuela is to greet the end of 2016 with a consumer prices increase of up to 700 percent while its GDP is set to decline by 10 percent, a new IMF report suggests.
"Venezuela's economic condition continues to deteriorate, as policy distortions and fiscal imbalances remain unaddressed," Alejandro Werner, chief Latin America economist, said in the report titled "In Transition: The Outlook for Latin America and the Caribbean".
Despite a rough beginning to the year, external and domestic performance in Latin America and the Caribbean have been for the most part on the rise, the report notes.
However, the estimations of growth and inflation levels in Venezuela are the worst in the world, the paper continues.
"Economic activity is expected to contract by 10 percent in 2016, and inflation is expected to exceed 700 percent," it says.
The IMF forecasts for Venezuela have taken a turn for the worse since the last report. Previously, the organization predicted that the nation's economy would shrink by only eight percent while inflation was not supposed to exceed 480 percent this year.
Venezuela faces a deep recession and a serious supply crisis while the population struggles with food shortages and growing prices.
The opposition accuses socialist president Nicolas Maduro and his predecessor Hugo Chavez for the drastic state of the country's economy aggravated by the collapse in oil prices. Maduro meanwhile blames business elites and foreign forces of economic boycott aimed at achieving political goals.
On top of all, the country owes nearly 5 billion dollars of bond payments ought to be paid between October and November which brings the chances of default very high.
Experts say that Venezuela will soon have to turn to the IMF for help as the situation in the country keeps worsening, according to The Wall Street Journal. However, since Caracas broke off its relations with the fund ten years ago under Chavez, it is not looking for ways to reconcile, representative of the IMF said.
"There has been no change in Venezuela's relationship with the Fund,"said IMF's Gerry Rice. He added that while the organization is urging Venezuela to restore the relations, "the Venezuelan authorities have not contacted us."
You can share this story on social media: