Turkish currency rebounds from 2008 low after failed coup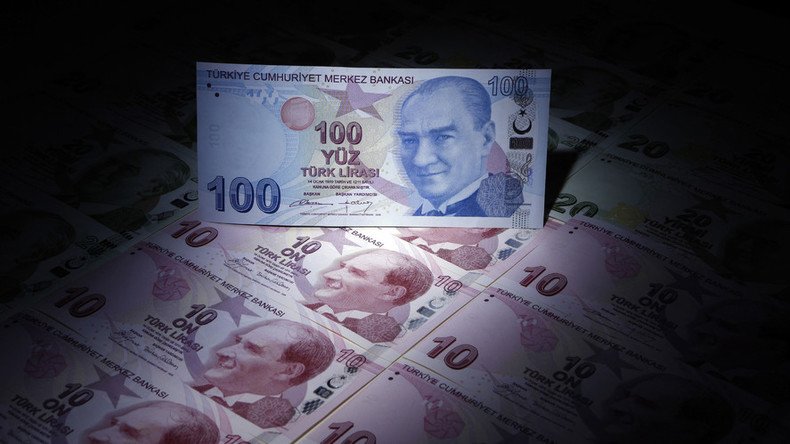 The Turkish Lira regained poise on Monday, clawing back some of Friday night's losses triggered by the attempted military coup. Stocks and bonds opened lower at the start of trade on Monday.
The lira was trading 2.78 percent stronger at 2.9326 against the dollar in Istanbul. Friday's five percent tumble was the lira's biggest since October 2008 at the height of the financial crisis.
The Istanbul 100 Index fell 2.6 percent, the most in more than three weeks. Turkish stocks had climbed more than 10 percent in the two weeks following UK's Brexit vote in a bounce for emerging markets.
The yield on 10-year government bonds soared 43 basis points to 9.52 percent.
"Essentially, we expect Turkish assets to be vulnerable in the short-term. The worst case scenario has been avoided as a successful coup would have triggered a full-scale sell-off," Piotr Matys from Rabobank told the Financial Times. "The damage, however, has been done. Turkish bonds and stocks face a turbulent period due to heightened political risk," he added.
Goldman Sachs lowered its forecasts for the lira over the weekend, saying the currency will slide to 3.10 per dollar within three months. The bank revised its earlier forecast of 2.95.
"While the immediate level of uncertainty has been sharply reduced post the failure of the takeover and a renewed coup appears unlikely, we expect the level of political risk will remain elevated and hence have implications for the economy," the investment bank said.
According to a London-based analyst at Commerzbank Tatha Ghose "prices will likely be volatile for some time, but in the end, investors will likely use this as a buying opportunity."
"The main question for investors now is whether or not there will be a residual impact on Turkey's long-term risk premium," the analyst told Bloomberg on Sunday before lira trading opened.
When tanks appeared on the streets of Ankara and Istanbul and a breakaway faction of army officers announced they had assumed control of the country, investors rushed to bid up safe havens such as the Japanese yen. However, with the first signs of stabilization investors unwound safe-haven trades.
To calm investor concerns, Turkey's Central Bank said on Sunday it would cut the commission on daily liquidity options for banks to zero and provide them with unlimited liquidity to maintain efficient functioning of the financial markets.
You can share this story on social media: