Bilderberg deal? Microsoft to buy LinkedIn for $26.2 billion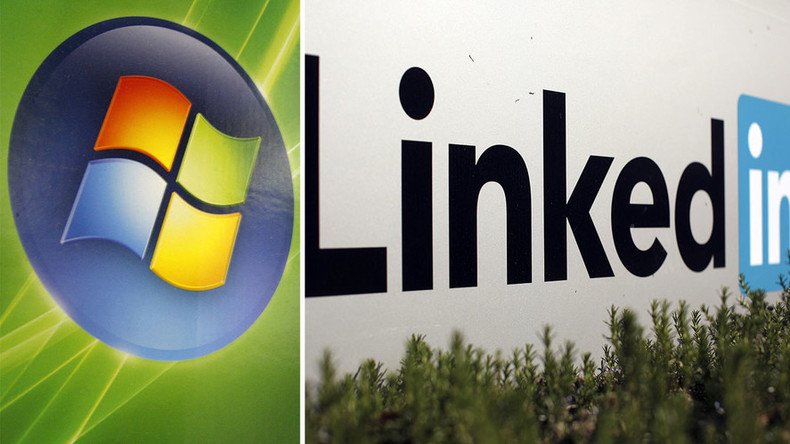 Microsoft has purchased the social networking service LinkedIn for $26.2 billion, equating to $196 per share. The network's co-founder has described the deal as a "re-founding moment" for the service.
The two companies have entered what they call a "definitive agreement" that will see Jeff Weiner staying on as CEO of LinkedIn, but will now be answerable to Microsoft boss Satya Nadella.
The deal, which is the biggest for Nadella while leading Microsoft, sees the company paying a 49.5 percent premium on LinkedIn's closing price on Friday, according to Bloomberg.
The transaction is expected to be closed out by the end of the year and was unanimously approved by the boards of directors of both LinkedIn and Microsoft.
It is also subject to approval by LinkedIn's shareholders and will need certain regulatory approvals.
SMH at Microsoft paying $26.2 billion for LinkedIn when you can just download it for free from the App Store.

— Ciara Knight (@Ciara_Knight) June 13, 2016
Microsoft is buying LinkedIn to complete its monopoly on things you want to unsubscribe from and don't know how you were signed up for

— Alexandra Petri (@petridishes) June 13, 2016
According to a statement from Microsoft, the corporation will finance the transaction "primarily through the issuance of new indebtedness."
Once the deal has been fully closed, Microsoft says it expects LinkedIn's financials to be reported as part of Microsoft's Productivity and Business Processes segment.
"Today is a re-founding moment for LinkedIn. I see incredible opportunity for our members and customers and look forward to supporting this new and combined business," said Reid Hoffman, chairman, co-founder and controlling shareholder of LinkedIn.
"The LinkedIn team has grown a fantastic business centered on connecting the world's professionals," Nadella said.
"Together we can accelerate the growth of LinkedIn, as well as Microsoft Office 365 and Dynamics as we seek to empower every person and organization on the planet."
LinkedIn, which is active in more 200 countries, has 105 million active users with 433 million registered overall and racks up 45 billion page views per quarter.
The company generated $3 billion in revenue in 2015, $2 billion of which stemmed from its large volume of recruitment ads, known as "Talent Solutions."
On the other hand, their new owners, Microsoft, generated revenue of $20.4 billion in the first quarter of 2016, down 12 percent on the same time in 2015. Income in the first quarter of 2016 hit $5.8 billion, down 1 percent on last year.
It was Nokia then Skype and now LinkedIn. Is Microsoft buying everything?

— Enoch Muema (@emuema) June 13, 2016
Shareholders and employees of LinkedIn will be hoping for a more positive outcome than when Microsoft purchased phone maker Nokia.
its will be another disaster like Nokia for Microsoft ...#LinkedIn

— RÄNÄ FÄQIH ESMERÄLDÄ (@ranakfaqih23) June 13, 2016
It purchased the Finland-based hardware manufacturer in 2014 for $7.2 billion but in 2015 was forced to write off the debt from the deal and lay off thousands of its workers in the US and Finland.
At the time, Nadella described the move as a "fundamental restructuring of our phone business."
READ MORE: Ctrl-Alt-Delete: Microsoft writes off Nokia, cuts 7,800 jobs
Until Monday's announcement, the most expensive deal in Microsoft's 38-year history had been its purchase of online video communications program Skype for $8.5 billion in 2011.
Lol thats a sign for me to get off. Last thing, both Microsoft n LinkedIn were in the Bilderberg meeting, now they selling 🤔 coincidence

— Tomas Abreu (@TomasAbreu_) June 13, 2016
So Microsoft snatched LinkedIn. Was wondering why the hell Reid Hoffman is on Bilderberg's participants list. Officially top dog status.

— ian (@rabbice) June 13, 2016
Some are questioning the timing of the deal, suggesting that it was worked out at this weekend's secretive Bilderberg conference in Dresden, Germany since LinkedIn co-founder Reid Hoffman was on the invite-only guest list along with Craig Mundie, senior adviser to Nadella.
Forbes reports Hoffman's net worth jumped to $800m on word of this sale.
You can share this story on social media: