Royal Mint opens its gold vaults to UK pensioners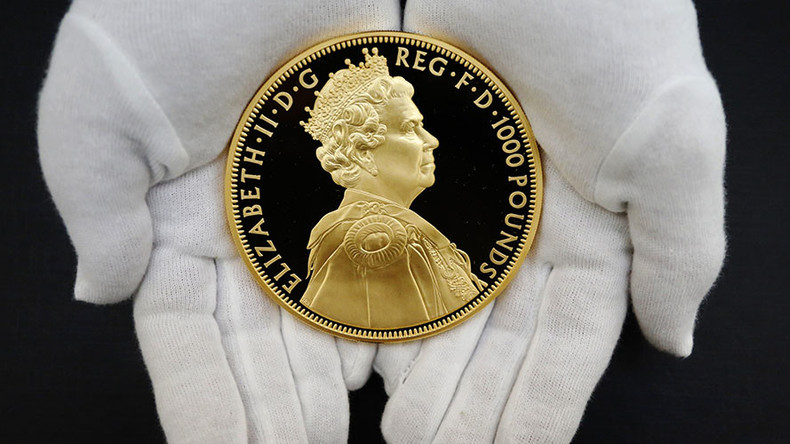 UK's Royal Mint announced on Wednesday it is to offer savers their first chance to own gold bars as part of their pension funds.
Investors will be able to buy 100g or 1kg bars and hold them in the Royal Mint's bullion vault storage facility. The vault is located at Llantrisant in South Wales and is guarded by the Ministry of Defense. The most expensive single bar weighing one kilogram can be purchased for £28,286 ($41,131).
Investors will be charged up to one percent a year (plus VAT) for the privilege of owning the bars, based on the daily market value.
"The Royal Mint benefits from a centuries-old reputation as a trusted bullion provider and manufacturer of coins on a global scale. The move to make Royal Mint gold bullion available for holding within pension schemes opens us up to a whole new marketplace," said Chris Howard, director of bullion at the Royal Mint.
The 1,000-year old Royal Mint will allow customers to buy, store and sell bullion coins at constantly updated prices through its trading platform - quickly, effortlessly and securely, 24 hours a day, 365 days a year.
While previously it was possible to buy gold bullion from the Royal Mint, customers couldn't do that as part of their pension savings.
The move to offer UK pension investors the option to buy gold bars follows the decision in 2014 by the Financial Conduct Authority (FCA) to make gold bullion a standard asset. The FCA's decision then prohibited financial consultants from advising clients to invest in gold.
Until recently, gold, silver, platinum and palladium prices were set by a century-old process where representatives of five banks fixed the benchmark gold price in a teleconference call, and either recommended a higher or lower price to meet supply with demand.
The practice dating back to 1919 helped determine the price of the precious metal on exchanges worldwide. The prices were then used as a guide for miners, jewelers, as well as traders that sell securities tied to metals prices.
However, that price fixing method had come under fire from US, UK, and European regulators who argued that it lacked transparency.
Two years ago the process was overhauled with the help of the London Bullion Market Association. Now, an electronic, auction-based system serves as a regulatory structure for market prices.
You can share this story on social media: