Giphy wants to turn GIFs into big business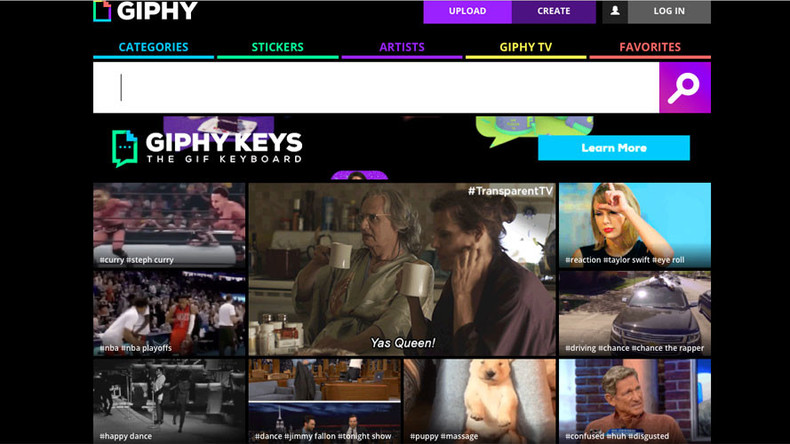 Internet start-up Giphy has become a leader in shareable animated GIFs with 150 million unique monthly visitors to its website. There's just one problem - the three-year old company hasn't figured out how to generate money.
The GIF (graphics interchange format) file format which allows images to move for a short period was created in 1987. It has gained in popularity as the images are a convenient stand-in for text, and can convey emotions.
Earlier this year Giphy raised $55 million in funding at a $300 million valuation. But even though the company provides a billion animations a day it still hasn't generated any revenue.
However, the founders of the project are sure that the business model does have the potential. The company is on the pre-revenue growth phase, according to co-founder and CEO Alex Chung.
"We're still on the exponential hockey stick growth and it's not slowing down," Chung said in an interview with TechCrunch daily, stressing that there is still venture capital willing to invest.
Giphy remains a GIF search engine first and foremost. However, GIFs are currently being integrated to mobile chat platforms, apps and messaging services.
"We are the biggest search engine inside of messengers that anyone has ever built," Adam Leibsohn, chief operating officer at Giphy told CNBC.
According to Leibsohn, the company might monetize through sponsored GIFs, the same way Google does via sponsored search results.
The service allows GIF creation in nearly real time. This could provide companies with exposure on the web. Chung suggests brewers could pay to get the top GIF spot when people search for beer.
Giphy integrates with a number of messaging applications. Advertisers do not currently have access to the Slack messaging platform, but they could through GIFs.
To reach this, the company has "special partnerships" with film studios, TV networks, sports and entertainment companies to copy and freely distribute video content drawn from copyrighted material.
"It has allowed us to create really strong relationships with these companies. It helps them get their content in more and more places, places where you can't even buy ads," the co-founder said.
The company is not posting ads to monetize the platform yet. "Whether we turn on ads or not, and when we do and if we do, and how we do it, the market is already there because everyone is already consuming branded content day in, day out," said Leibsohn.