BHP and Vale face $44bn lawsuit over Brazil dam disaster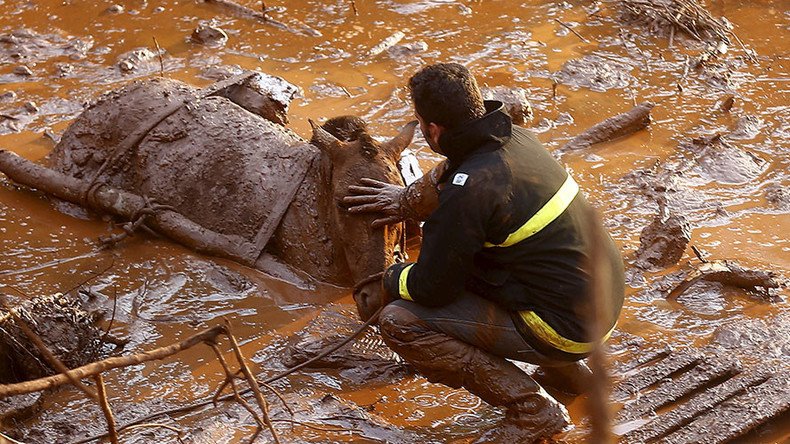 Federal prosecutors in Brazil have filed a $43.5 billion lawsuit on Tuesday against domestic iron miner Samarco and its owners Vale and BHP Billiton over a collapsed dam that killed 19 people and polluted the Gualaxo do Norte River in November last year.
The suit follows a six-month investigation and is also initiated against the two states affected by the spill and the federal government as well. The state of Minas Gerais, where the spill occurred, was accused of negligence in monitoring the dam.
The prosecutors demand the two companies and Samarco provide an initial payment of 7.8 billion reals ($2.2 billion) within 30 days.
The damage was estimated based on the costs of the 2010 BP Deepwater Horizon oil spill in the Gulf of Mexico, according to a statement from the prosecutor's office. BP's total pre-tax damages for the spill reached $53.8 billion.
Vale and BHP reportedly have not received an official notice of the claim.
The suit also brings into a question a previous agreement the companies signed with Brazil's federal and state governments.
Yet BHP was obliged to help Samarco rebuild the community and restore the environment affected by the failure of the dam, according to the company's statement to the Australian Securities Exchange.
The company claims Samarco, Vale and BHP were committed to pay an estimated 20 billion reals ($5.6 billion) under a separate lawsuit settled between the three firms and the Brazilian government.
"We believe the agreement (once approved by the court) provides the long-term remedial and compensation framework for responding to the impact of the Samarco tragedy and the appropriate platform for the parties to work together," said BHP as quoted by Reuters, adding that was the best way to repair damage.
Federal and state prosecutors did not take part in the settlement, claiming it lacked the legal mechanisms to ensure the companies would fulfill their obligations, making it little more than a "letter of intent".
You can share this story on social media: