US-born Ukrainian finance minister may buy country's largest telecom company – reports
Published time: 14 Apr, 2016 19:26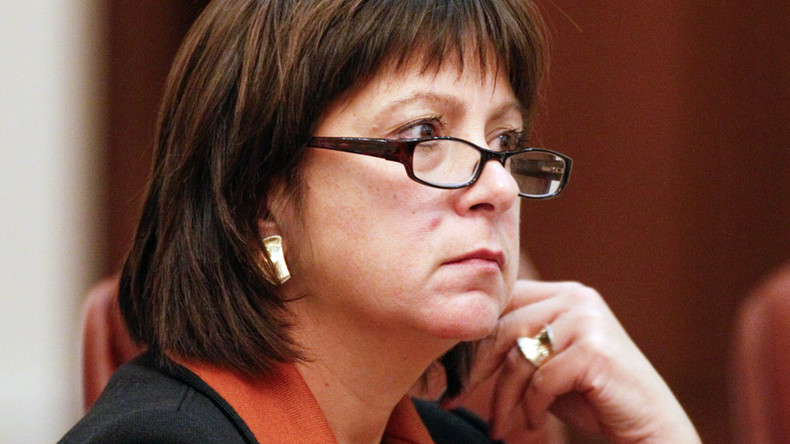 Ukraine's finance minister may soon own one of Ukraine's largest IT businesses. A firm co-founded by US-born Natalie Jaresko, a former State Department employee, is reportedly looking to purchase a company that controls 85 percent of Ukraine's telecom market.
The potential business transaction focuses on the company Information and Computer Technology (Incom), which began its liquidation procedure in February. To pay off debts, the company's major asset, Datagroup, may be sold.
The likely buyer is Horizon Capital, co-founded by Ukrainian Finance Minister Natalie Jaresko, according to LIGA.net news outlet. Prior to her role in the Ukrainian government, Jaresko worked for the US State Department.
In fact, Jaresko – who was born in the US state of Illinois – only received Ukrainian citizenship in December 2014, the same time as when she was appointed as finance minister.
Her political career in Ukraine has moved at lightning speed, and she is currently thought to be in talks to become the country's next prime minister. Although she is favored by investors and those hoping to crack down on corruption, critics say the move would show that Kiev is in fact a puppet of Washington.
Datagroup, which controls 85 percent of Ukraine's telecom market, is currently owned by famous businessmen Oleksandr Kardakov.
It's not the first time that Horizon Capital has invested in Information and Computer Technology. When trouble first emerged for the company in 2010, Horizon purchased a 30 percent share from Datagroup, the majority shareholder.
Kardakov's decision to liquidate came in 2015, following a US$30 million debt with ING bank and Ukraine's political and economic crisis that shook the country in 2013.
"What we did in our business before had no future prospects," Kardakov said.
According to the Ukrainian businessman, Information and Computer Technology fully settled with the government last year, paying nearly $350,000 of tax compromise, and nearly $500,000 in other taxes. In regards to debt owed to the banks, Kardakov said "they went on zeroing."
The fact that Datagroup could soon be owned by the company which Jaresko co-founded has many critics reminiscing about another big name from the US State Department, Victoria Nuland, who was caught on tape in 2014 while speaking to US ambassador to Ukraine Geoffrey Pyatt. The call led many to determine that Washington was playing a major role in the Ukrainian revolution.