Russian stocks closing in on all-time high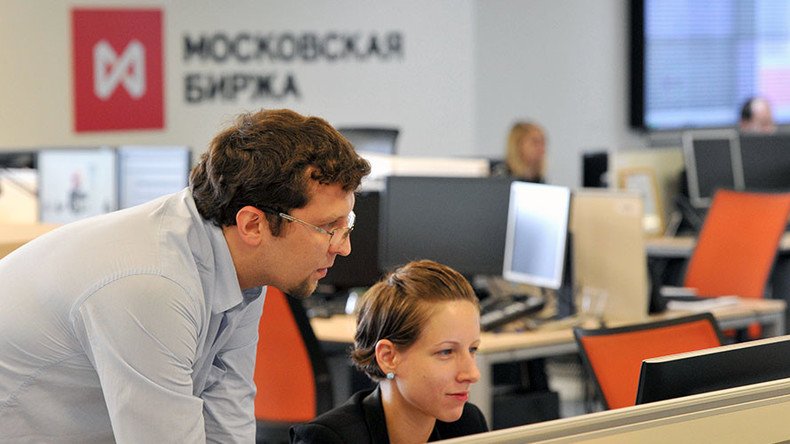 Money is pouring into the Russian stock market, with the ruble-denominated MICEX trading close to record-highs. Surging oil prices have renewed investor interest in what many see as undervalued Russian equities.
On Tuesday, the MICEX index traded above 1,900 points, just 70 points away from its 2008 record before the global financial crisis.
The dollar-denominated RTS index is also seeing a recovery, trading at over 900 points for the first time since November last year.

"Undervalued equities are like having money in the pocket," Anna Vaananen, a money manager at Credit Suisse Asset Management in Zurich told Bloomberg.
Expectations that oil producers will agree on Sunday in Doha to freeze crude production has pushed the Brent crude price to a four month peak on Tuesday of $43.38 per barrel. The US benchmark WTI crude was trading at $40.78.
Bolstered by surging crude, the Russian ruble has also seen a 23 percent recovery against the US dollar since January, trading at 66.26 rubles against the greenback on Tuesday.
According to Vaananen, stabilizing oil prices have helped the Central Bank of Russia tackle soaring inflation of almost 13 percent last year.
This is also paving the way for further interest rate cuts from the current 11 percent, which could stimulate economic growth. The Central Bank of Russia hasn't cut rates since July 2015, when they were snipped from 11.5 percent.
Russian Finance Minister Anton Siluanov said on Tuesday that quick strengthening of the oil and ruble could give only a temporary boost to the Russian economy. The main goal of the ministry is to return the economy to sustained growth, not backed by a short-time surge in crude prices.
You can share this story on social media: