France to 'make an effort' to lift anti-Russian sanctions if Russians give up champagne & cognac
Published time: 20 Feb, 2016 22:01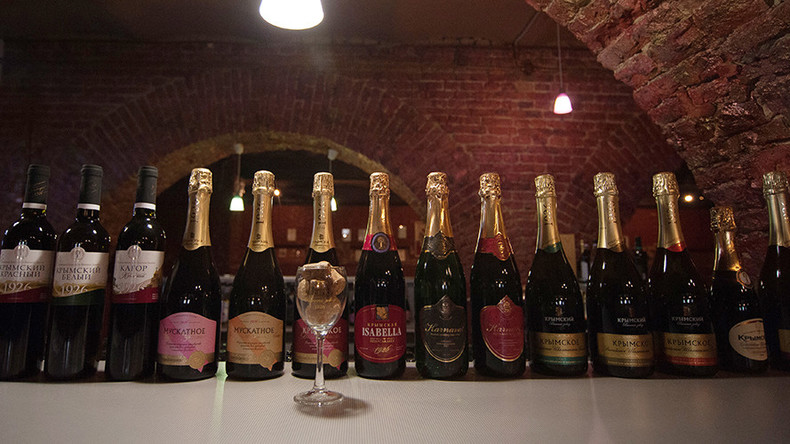 France suggests an effort to reverse economic sanctions on Moscow if Russian liquor producers stop using the "champagne" and "cognac" brands. France has been largely successful in stopping foreign liquor producers from using brands associated with its regions, but not in Russia.
In January French Economy Minister Emmanuel Macron said the country would make every effort to promote the lifting of anti-Moscow sanctions. But the announcement raised serious doubts among experts.
"It's still unclear what the words 'make efforts' stand for. They might be successful and might fail. But it was clear that France is eager to ban Russian producers using the names 'champagne', 'cognac' and 'calvados'," the Vice-president of Russia's non-commercial association of business Natlia Zolotyh told Gaztea.ru.
"I don't know how Paris can affect the lifting of sanctions. I think they just decided to seize the moment," said Igor Bukharov, the president of federation of restaurant-keepers and hoteliers. He added that the disputed terms do not misinform Russian consumers, as they do not associate the beverage with any geographical area.
The Russian federal service for intellectual property Rospatent plans to thoroughly analyze the alcohol market and possible introduce a ban. "After the in-depth study we'll be able to say whether the Russian alcohol market is ready to give up using the generic terms for product description," said the watchdog's deputy director Lubov Kiry. The possible effect on the economy hasn't been estimated yet.
According to the current agreement between Moscow and Paris, champagne, cognac and calvados exported from Russia are labeled as 'sparkling wine', 'brandy' and 'fortified cider'. Producers are using original generic terms in Cyrillic only for the home market; however France is demanding a ban on that as well.