Cheesed-off Italians swap bank bonds for Parmesan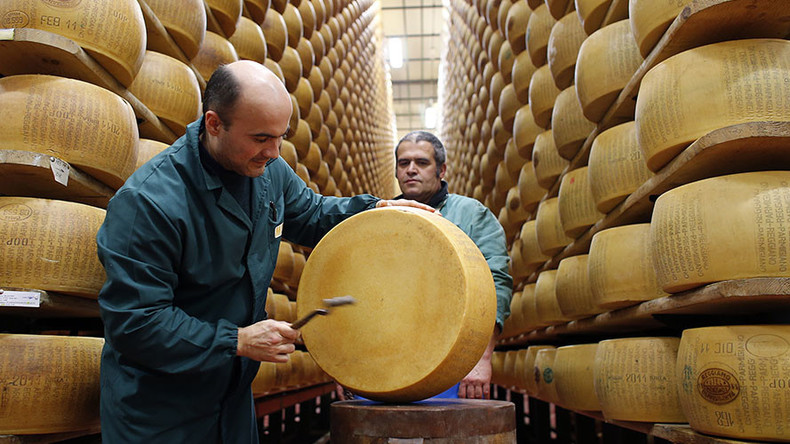 A dairy cooperative in Italy has raised €6 million after selling bonds guaranteed by huge wheels of Parmesan cheese.
"We already have some loans but, after a certain point, the banks don't want to give you any more," Andrea Setti, the financial controller of the 4 Madonne cooperative told AFP.
The bonds will pay a fixed yield of five percent until they mature in January 2022. The money raised in the bond issue will help the company improve its facilities and promote the thick-rind cheese it makes, said the cooperative's chairman.
4 Madonne is based near Modena in northern Italy. Around 40 dairy farmers supply milk to the company which produces the famous cheese.
The company's business was booming in recent years, production rose to 75,000 wheels a year while turnover hit €24 million in 2014.
However, when the cheese maker decided to boost its presence in the US market and applied to banks for a loan, it got no answer.
Over 95 percent of companies in Italy have no more than 10 employees and traditionally rely on bank lending for financing. Banks which are still recovering from the 2007-2008 financial crisis are unwilling to provide loans.
Italian Prime Minister Matteo Renzi's government is trying to encourage firms to raise money elsewhere. In this case, the government backed mini-bonds scheme has investors providing funding for six years in return for a five percent yield backed by cheese assets valued at a 120 percent of the bonds' value.
Several banks already hold hundreds of thousands of parmesan wheels as guarantees of loans to local producers.
You can share this story on social media: