Ruble, markets rebound as crude soars above $32 per barrel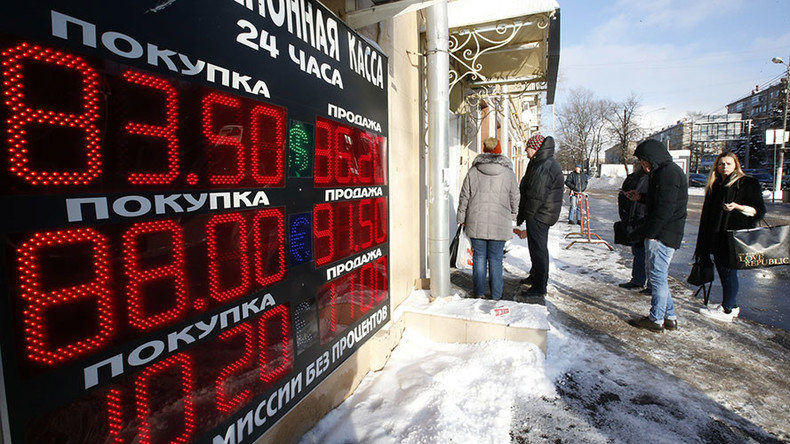 The Russian ruble made a strong recovery on Friday as oil prices and global financial markets rebounded on reassurance from Europe. The European Central Bank (ECB) bolstered investor confidence after announcing that it might consider more monetary easing.
Brent and WTI crude benchmarks surged more than five percent on Friday, trading above $32 per barrel, off their 12-year lows of $26 this week.
"More stable global markets are likely to see speculative buying re-emerge in commodities that have suffered heavy losses in recent weeks. However, these rallies are likely to remain short-lived," Reuters quotes ANZ bank.
Rising oil prices strengthened the Russian currency to 79 rubles to the dollar from its historic low of 85 a day earlier. The ruble also made gains on the euro, going from 93 to 85 against the common currency.
Asian markets made sharp gains on Friday after a sell-off earlier in the week. Japan's Nikkei gained nearly six percent after hitting at 15-month low the day before. China's Shanghai Composite was up over one percent, while the Hang Seng in Hong Kong closed almost three percent higher.
The rally continued on the European markets with London's FTSE and Germany's DAX up over two percent at 2:00pm GMT. Russian stock markets were trading higher with the dollar-denominated RTS Index gaining over eight percent, and the ruble-traded MICEX up over two percent as of 5:00pm MSK.
"We're seeing a really nice bounce today as lots of people close their short positions but that doesn't necessarily mean we've seen the bottom," Nicholas Smith, a strategist at CLSA told Reuters.
"It's tough to know when a panic is going to subside but it does look like we're starting to get there," he added.
You can share this story on social media: