Trade war with Moscow reveals another unpleasant surprise for Kiev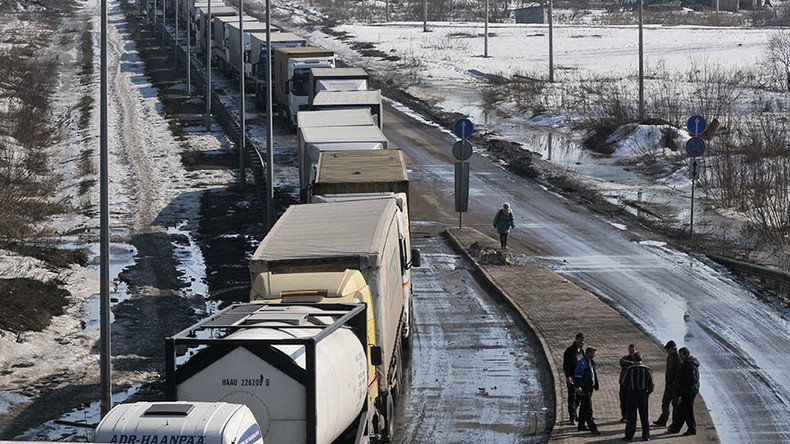 It turns out that losing Russian exports and trade preferences isn't the only problem Ukraine will face as the trade ban by Moscow comes into force. The transit of Ukrainian goods to Central Asia through Russia has also been halted.
Through November last year, Ukraine earned $1.3 billion in exports to Central Asia.
"The transit blockade poses meaningful risk to Ukraine's current account and will compound pressures on the hryvnia in the coming weeks and months," according to investment bank Dragon Capital in Kiev, quoted by Bloomberg.
Even if routes to bypass Russia are found, it could cost Ukraine 0.5-0.7 percent of GDP, the bank said.
In the third quarter of last year, recession in Ukraine stopped for the first time in 18 months. However, Bloomberg's poll of economists in December expected a new recession in 2016 at 60 percent. Ukraine's currency, the hryvnia, has lost almost a third of its value last year and is facing hard times ahead.
In December, Russian President Vladimir Putin signed a decree to suspend the free trade treaty with Ukraine, starting January 1, 2016. He said Kiev's move to open its borders to the EU compromises Russian interests and economic security. Moscow is also concerned that without such a barrier, Ukraine could illegally supply embargoed European goods to Russia. The Kremlin also banned food imports from Ukraine.
In addition, Putin changed transportation rules for Ukrainian goods exported to Kazakhstan through Russia. Ukraine must now transport goods to Belarus in sealed containers. The freight will have GLONASS navigation system installed when the goods enter Russia. The tracking system will be removed as soon as the freight leaves Russia.
According to the Ukrainian Ministry for Economic Development and Trade, even though the new restrictive measure by the Kremlin implies only exports to Kazakhstan, Russia has de-facto banned transits of all goods originating in Ukraine through its territory.
In response, Ukraine banned Russian food products from January 10, 2016. They include pastries, chocolates, meat, fish, coffee, black tea, cigarettes, beer, and other products.
You can share this story on social media: