Russia wants rapprochement with Europe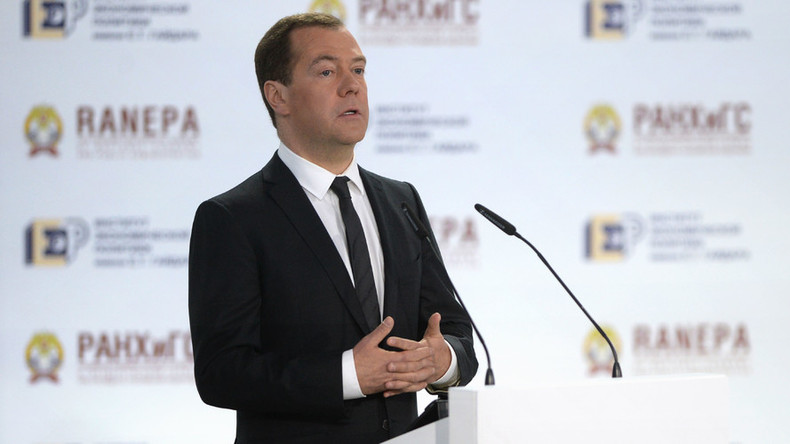 Moscow wants to re-establish a normal relationship with the European Union, according to Prime Minister Dmitry Medvedev. Europe is still considered by Russia as a major trading partner, despite sanctions, he said.
"Europe is our closest neighbor, an important economic partner. Our turnover with it is still hundreds of billions of euro, despite the regrettable factor of sanctions," said Medvedev, speaking at the Gaidar Economic Forum in Moscow on Wednesday.
"I'm sure, and I mentioned it many times, that in the end common sense will prevail, the sanctions will be left in the past with relations between Russia and the EU returning to normal," he said.
Medvedev also said Russia would continue to develop trade with its Eastern neighbors and other Asian countries.
"Last year, we gradually increased our non-oil exports both in physical and in value terms. To continue that, we should fully use the potential of the Eurasian Economic Union [Russia, Belarus, Kazakhstan, Armenia, Kyrgyzstan], to agree on free trade zones with leading trade contractors, to form advanced economic partnerships in the framework of the SCO (Shanghai Cooperation Organisation) and ASEAN countries," he said.
The SCO, a political, economic and military alliance, includes China, Russia, Kazakhstan, Uzbekistan, Tajikistan and Kyrgyzstan. Other countries holding observer status with the organization include India, Iran, Pakistan, Afghanistan and Belarus.
ASEAN is the Association of Southeast Asian Nations that unites Indonesia, Thailand, Malaysia, Philippines, Singapore, Vietnam and other Asian countries.
The Prime Minister also said that with collapsing crude prices Russia should prepare for the worst. Medvedev said a decline in people's living standards is the most painful consequence of the economic difficulties in the Russian economy, adding that the government will try to improve the situation, not waiting for external difficulties to stop.
"Life cannot be put off until better times. As for social support, we will take the most active measures to tackle the current situation," he said.
You can share this story on social media: