Brent crude oil falls below $31 a barrel for 1st time since 2004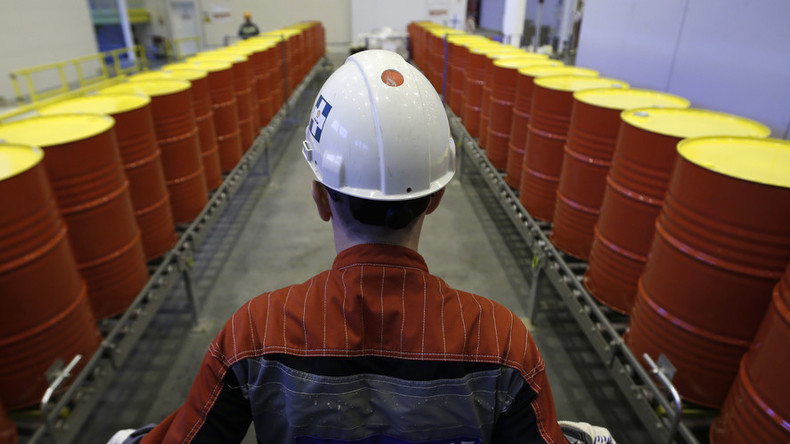 A key oil benchmark plunged below $31 per barrel Tuesday, continuing the downward trend of the previous day. Brent crude traded as low as $30.50 on the market. US crude benchmark West Texas Intermediate (WTI) fell as low as $30.47.
A number of factors have combined to put pressure on global crude prices. Oil is dipping to decade-low levels amid overproduction and bad economic news from China, where poor prospects for manufacturing suggest that the leading oil-consuming country will not need as much crude as producers hoped.
US stockpiles rose by 2 million barrels last week, according to a Bloomberg survey released before the Energy Information Administration report on Wednesday.
Additionally, US crude oil exports have restarted last week for the first time in four decades after Washington lifted the 40-year ban.
Iran is expected to launch its own oil benchmark in March as soon as international sanctions blocking exports are lifted.
"When you have a supply overhang, there's going to be continued downward pressure on prices," Ric Spooner, a chief analyst at CMC Markets in Sydney told Bloomberg.
"Investors are looking toward a difficult few months for oil, especially with Iran set to boost exports. We are likely to see production cuts at these prices, but they may take some months to come through."
Saudi Arabia, the leading country in OPEC, is regarded by many as the main plotter of the crude price collapse. According to Russia's Energy Minister Aleksandr Novak, Saudi Arabia has destabilized the crude market by increasing its oil output to the tune of 1.5 million barrels a day.
Cheap crude threatens to deplete Russian reserves
Tuesday also saw the Russian ruble falling to its lowest exchange rate against major currencies since 2014. The Russian currency traded at over 77 rubles against the US dollar at the opening of trade on the Moscow Stock Exchange. The ruble also fell to 83 against the euro, its lowest level in over a year.
Morgan Stanley has warned that a rapid appreciation of the US dollar may send Brent crude as low as $20 a barrel.
You can share this story on social media: