China stock slump deepens despite Beijing efforts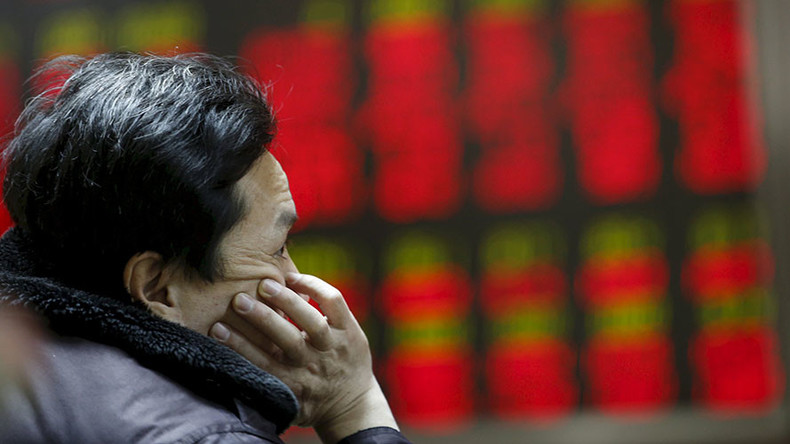 The Shanghai Composite plummeted 5.33 percent on Monday, continuing last week's nearly ten percent drop that erased all the gains of last year. The latest collapse came after the People's Bank of China surprised markets by announcing a stronger than expected yuan fixing.
The country's central bank set the yuan-dollar exchange rate at 6.5626 on Monday, which is lower than Friday's 6.5636.
The Shenzhen Stock Exchange Composite Index fall was even steeper at 6.6 percent.
Chinese stocks have dragged down other Asian markets. Hong Kong's Hang Seng and Japan's Nikkei closed 2.76 and 0.39 percent down, respectively.
In the first week of 2016, China's central bank depreciated the yuan against the dollar by more than 1.5 percent. It is the biggest drop in the yuan exchange rate since August 2015, when the devaluation of the Chinese currency strongly affected global stock markets.
Key Russian indices are deep in the red on Monday, as well. The dollar-denominated RTS Index was down 4.36 percent, while the ruble-traded MICEX was losing 3.32 percent as of 2:00pm MSK.
European stocks advanced on Monday after their worst week since 2011. As of 10:40am GMT, London's FTSE 100 was up 0.18 percent, while France's CAC 40 rose 0.66 percent and the German DAX was 0.76 percent in the green.
READ MORE:Tough times ahead for Asian economies
"The market reaction to what's been happening in China has been hugely overdone," Peter Dixon, Commerzbank AG's global equities economist in London told Bloomberg.
"The uncertainty hasn't dissipated - it only takes one or two things to go wrong and we're back to where we started - but investors are finally looking at things with a clearer head," he said.
Last week, Bank of America Merrill Lynch predicted the Shanghai Composite will plummet by nearly 30 percent in 2016.
You can share this story on social media: