Russia to ship 10mn tons of oil annually to India in next 10 years – Putin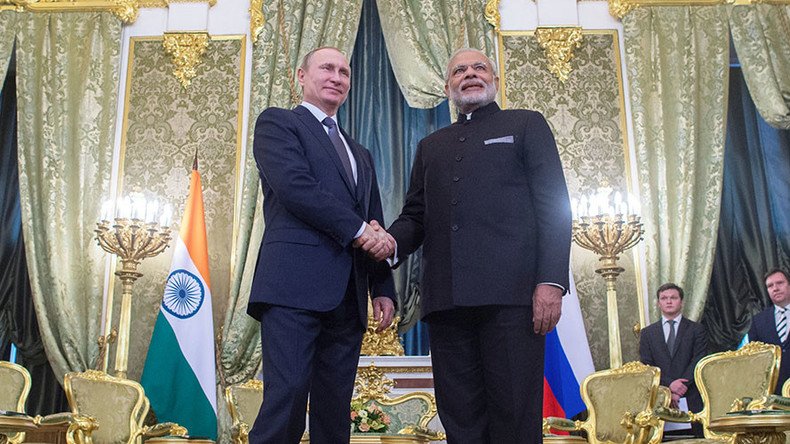 Russia will supply India with 10 million tons of oil annually in the next 10 years, President Vladimir Putin said after meeting Indian PM Narendra Modi in Moscow. The two also agreed upon several major deals in defense, trade and nuclear energy.
"In the framework of the agreement between Rosneft and Esser group, large-scale supplies of oil and petroleum products – 10 million tons of oil annually in the next 10 years – are planned to be delivered to Indian refineries," said Putin Thursday during a joint statement with Modi.
The Indian prime minister is on a two-day visit to Moscow as part of the 16th Annual Bilateral Summit. The summit started on Thursday with a private dinner hosted by Putin in the Kremlin following which Russia and India inked 15 agreements.
Moscow reiterated its commitment to cooperate in the nuclear sphere as Putin confirmed Russia's plans to build at least six new nuclear power units in India in the next 20 years. In April, 2014 Russia and India agreed to begin phase two of the Kudankulam plant, which is to be launched in the coming weeks. According to Putin and Modi, the construction of Blocks 3 and 4 is to be launched shortly, while negotiations are still held on the construction of Blocks 5 and 6.
India and Russia reaffirmed that military-technical cooperation remains one of the key objectives of their partnership.
"It's not just about the final product, but about close technological cooperation," Putin explained.
He elaborated that the two countries have been successfully cooperating in the production of BrahMos short-range supersonic missiles and that they planned to jointly develop a new type of jet fighter and transport aircraft.
Russia and India have also affirmed their commitment to further collaborate in developing space exploration, rocket manufacture and engine manufacture.
Modi and Putin inked documents simplifying the approval of business and tourist visas, while the PM urged Russian businesses to more actively invest in India.
"Russia is our most loyal partner, particularly in the fields of defense, security, that's why I've come [here] to welcome our partner to participate in our country's economic progress," Modi said. "Russia is holding a leading position in many spheres such as space, information technologies and heavy industry."
On Wednesday, Modi announced a large-scale development program for the country's armed forces, which could be worth $150 billion. Earlier, India's Deputy Foreign Affairs Minister Subrahmanyam Jaishankar promised to increase mutual investment five-fold over the next decade.
"Mutual investments currently average around $11 billion and we want to increase them to $30-50 billion by 2025,"Jaishankar told reporters on Tuesday. He called it a "very big priority" for both parties.
In joint statement on Thursday the Russian and Indian leaders also condemned terrorism saying that the fight against it is only possible if the entire global community joins efforts dropping "selectiveness and double standards."
"It is important Russia and India make similar approaches to key international problems. Our countries are for a political settlement of the conflict in Syria and promotion of national reconciliation in Afghanistan," Putin said.
"Together with President Putin we have a great level of mutual understanding of global issues," said Modi.
You can share this story on social media: