Oil major ConocoPhillips quits Russia after 25 years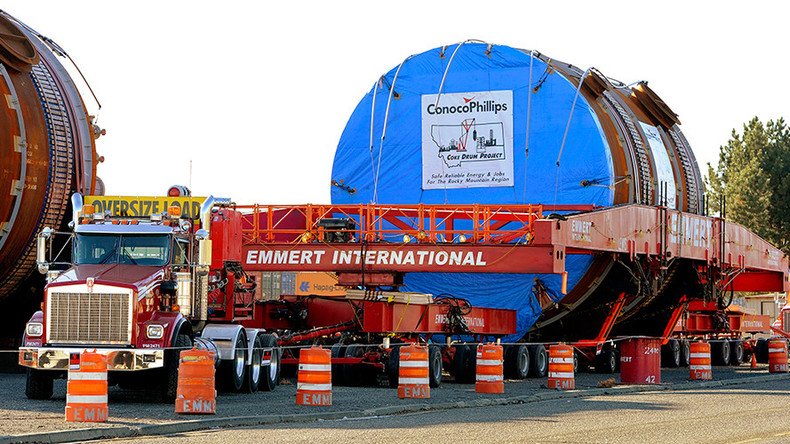 US oil and natural gas producer ConocoPhillips has sold its 50 percent stake in a joint venture with Russian state oil major Rosneft.
"ConocoPhillips confirms it has sold its 50 percent interest in Polar Lights to Trisonnery Asset Limited," the company told Sputnik news agency. Earlier this month, Rosneft also announced the sale of its stake in the joint venture.
Polar Lights was established in 1992 to develop five oil fields in the Nenets Autonomous Region in Northern Russia. Initially, oil reserves there were estimated at 16 million tons, but the production has been going down every year. In 2014 it was at 8,200 barrels per day last year, only 0.5 percent of ConocoPhillips total production of 1.5 million barrels of oil equivalent per day that year.
Falling oil prices and not US sanctions appears to be the main factor in Conoco's decision to exit the Russian market. The company has been planning to sell about $2.3 billion in assets this year, as it pares back noncore holdings and cuts costs in the face of low energy prices, reports the Wall Street Journal. In the first nine months of this year, the company sold $600 million worth of assets, and another $1.7 billion worth of deals were expected in the fourth quarter, according to the newspaper.
Despite plummeting crude and US sanctions, other oil majors like BP, Shell and TOTAL continue to invest in Russia. Others, like ExxonMobil, appear to be waiting for political conditions to change in Washington. The US oil giant has access to some of Russia's most desired exploration licenses in partnership with Rosneft, but the Russian oil company has been included in US sanctions list.
According to Matthew Sagers, senior director of Russia & Caspian Energy at HIS, the attitude of many Western oil makers is as follows: "Don't bet the company, don't take a big risk, but don't take your finger out of Russia."
Following the fall of the Soviet Union, Conoco was one of the first foreign oil firms to work in Russia's oil fields. By selling the assets in the joint venture with Rosneft, Conoco quits the Russian market after almost 25 years.
You can share this story on social media: