Russia doubles electricity supply to Crimea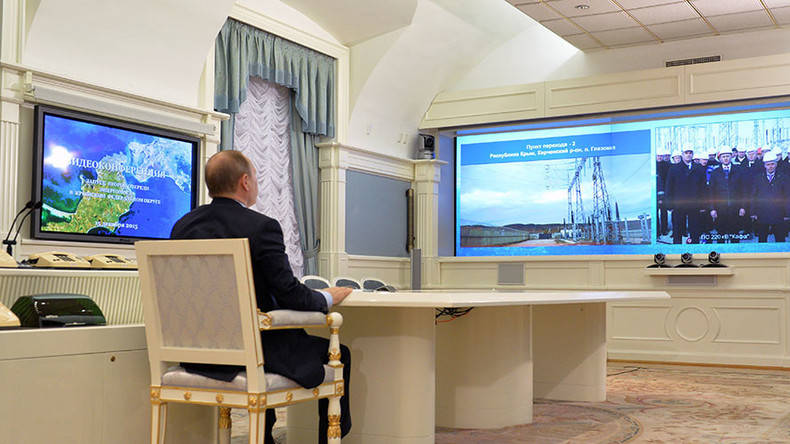 Russian President Vladimir Putin has switched on the second of two power lines to complete the first energy bridge to Crimea. This increases the power supplied to the peninsula by 230 MW. The first power line providing 260 MW started on December 2.
"We now face the next challenge of launching another two energy bridges to the Crimean Peninsula in April or May at the latest. We need to supply Crimea with 800 MW of electricity, which will cover all of its needs," said President Putin.
"I want to thank you all for the accelerated pace of the work that has been made as soon as possible," he added.
According to Energy Minister Aleksandr Novak, along with Crimea's own energy resources, the peninsula now gets 1,000 MW of electricity. This meets 80 to 100 percent of the region's demand, depending on the time of the day, according to Novak. The second power hookup will allow the reconnection of Crimean factories.
In November and the beginning of December , Crimea was facing a serious shortage of electricity as a result of bomb blasts which destroyed two pylons in Ukraine on November 22.
The power lines were crucial in delivering electricity to the peninsula. The situation was complicated by anti-Russian activists engaged in a so-called blockade of Crimea who prevented repair crews from restoring supplies.
Getting power to Crimea is part of Moscow's main goal to integrate the peninsula. Russia expects to complete a 19-kilometer bridge to bypass Ukraine in 2018.
The Crimean Peninsula's only land border is with Ukraine, but currently regular passenger and cargo deliveries are organized by direct flights and ferries from ports in southern Russia.
You can share this story on social media: