'Honeymoon' over for lira after Turkey shoots down Russian jet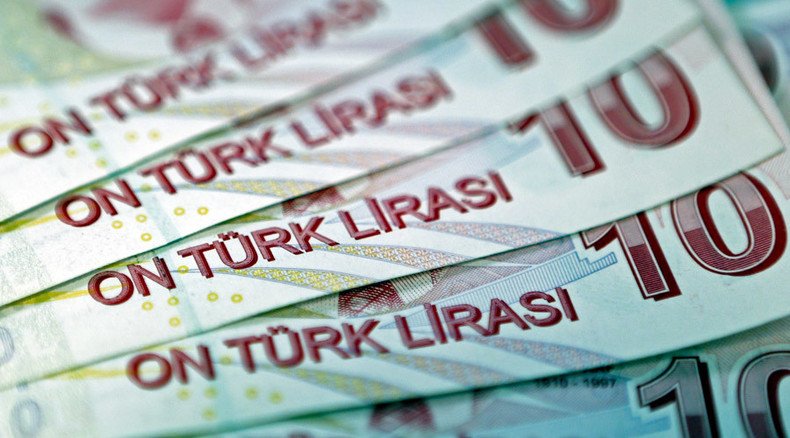 The Turkish lira is already this year's worst performing currency outside Latin America. But after a Turkish F16 jet shot down a Russian bomber near the Syrian border, analysts say the lira is likely to plunge even further, to record lows.
"It's a bit of an abrupt ending of the honeymoon here for the lira," Roxana Hulea, an emerging market strategist at Societe Generale in London told Bloomberg. According to her, the Turkish lira will slump to 3.1 per dollar (2.92 as of 8am GMT Monday).
In September, the lira fell to a record low of 3.0752 against the greenback. The Turkish currency won back eight percent through November 20, but last week's slowdown extended the slide to 20 percent in 2015.
On Saturday, Russian President Vladimir Putin approved economic sanctions against Turkey in response to the downing of the Russian warplane. The measures are intended to hit the Turkish economy where it hurts most, its tourism industry and exports to Russia. They include a ban on Turkish produce, employment of Turkish nationals in Russia, the cancellation of visa-free travel between the countries and a recommendation for Russians not to travel to Turkey.
Russia was Turkey's third-largest trading partner in the second quarter of the year. Turkey is also largely dependent on Russian tourists that make up 10 percent of all the visitors coming to the country. 3.3 million Russian holiday makers visited Turkey in the first nine months of the year.
According to the Federation of Turkish hotel owners TÜROFED, Ankara could lose as much as $4.5 billion this year from the loss of Russian tourism alone.
Losing the Russian export market as well as the negative impact of the new visa rules on Turkish investments in Russia is also likely to hurt the lira in the coming months.
LISTEN MORE:
You can share this story on social media: