Turkish goods under the microscope of Russian customs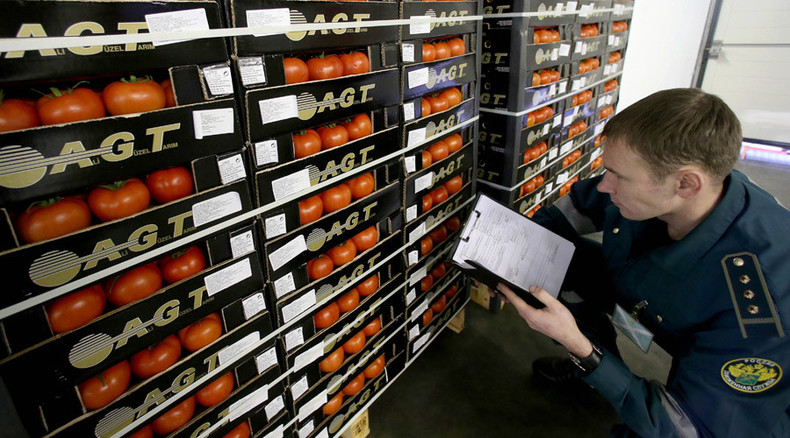 All imports from Turkey now face mandatory inspection by Russian customs and not everything is getting through. Even perishable goods have become the victim of red tape after the downing of a Russian warplane by Turkey near the Syrian border.
According to reports from local media, Russian customs are checking all cargo coming from Turkey, and seizing any goods with improper paperwork.
Starting Wednesday, customs have inspected every container of Turkish goods in Novorossiysk, one of Russia's major Black Sea ports, a dispatcher working there told Vedomosti daily. There was no official guidance from the Russian authorities, he said. It's within the rights of Russian customs to carry out fastidious inspections of goods. But according to the dispatcher, such inspections in the past were rare and applied to only five to ten percent of the goods coming from Turkey.
Prior to the dispute between Russia and Turkey over Tuesday's jet incident, the two countries were trading in a 'green corridor mode' that implies simpler customs clearance.
Trade between Russia and Turkey from January to September totaled $18.1 billion, a decrease of 20 percent compared to the same period last year. The volume of Russian imports was $3.1 billion, a drop of almost 40 percent.
A third of Russian imports from Turkey are food and agriculture. A quarter makes up imports of machinery and equipment, and 17.6 percent in clothing and footwear, according to the Russian Economic Development Ministry.
Russian Agriculture Minister Aleksandr Tkachev said it wouldn't be difficult to substitute Turkish fruit and vegetables with products from Morocco, Egypt, Iran, South Africa and Georgia. According to Tkachev, 15 percent of Turkish products don't meet Russian standards.
Small Russian businesses say they've already been affected by the unofficial food embargo on Turkey. According to them, losing a single batch is a catastrophe. "Why punish Russian importers that have already paid for the goods? Is it 'hurt your own so others will fear you' policy?" asked a local businessman.
President Putin warned Ankara on Tuesday that the downing of the Russian jet will have serious consequences for Russian relations with Turkey.