Global markets fall as Turkey shoots down Russian jet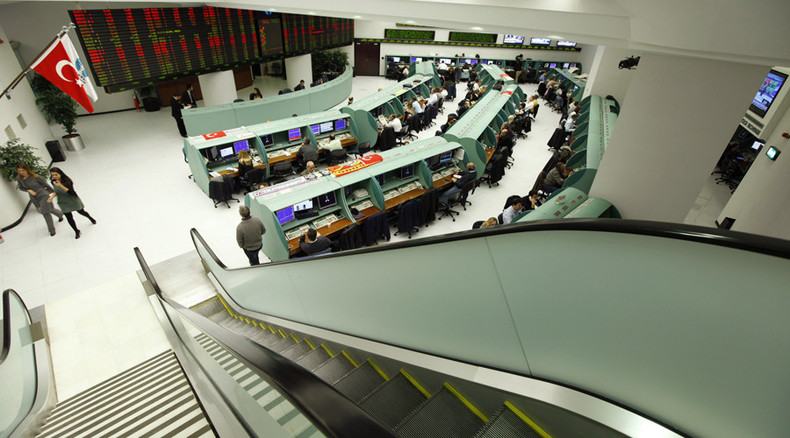 European, Turkish and Russian markets plunged after confirmation that Turkey had shot down a Russian jet near its border with Syria and Moscow warning Ankara of "serious consequences".
Turkey's Borsa Istanbul 100 was down almost four percent after Russian President Vladimir Putin called Ankara's action a "stab in the back made by accomplices of the terrorists." He also warned Turkey of "very serious consequences" for relations.
The Russian stock market also fell on the news from Syria. As of 6:00pm MSK, the ruble-traded MICEX index was down 3.30 percent, while the dollar-denominated RTS index fell 3.56 percent. On Monday, the MICEX skyrocketed to 1,865 points, its highest level in seven years.
The crisis also affected European stock markets. London's FTSE was down 1.19 percent as of 3:00pm GMT. The markets in France and Germany were losing 1.90 and 1.42 percent, respectively.
The Turkish lira is the worst performer among the currencies. As of 3:00pm GMT the lira was down 0.87 percent against the US dollar.
Earlier in the day, a Russian Su-24 bomber was shot down by Turkish F16 fighter as it was conducting a bombing mission against militant targets in northern Syria near the Turkish border.
Ankara claims the plane strayed into Turkish airspace and did not respond to warnings.
Russia insists the jet was flying a kilometer within Syrian territory and crashed four kilometers inside Syria.
You can share this story on social media: