China's stock surge as state support reverses market slide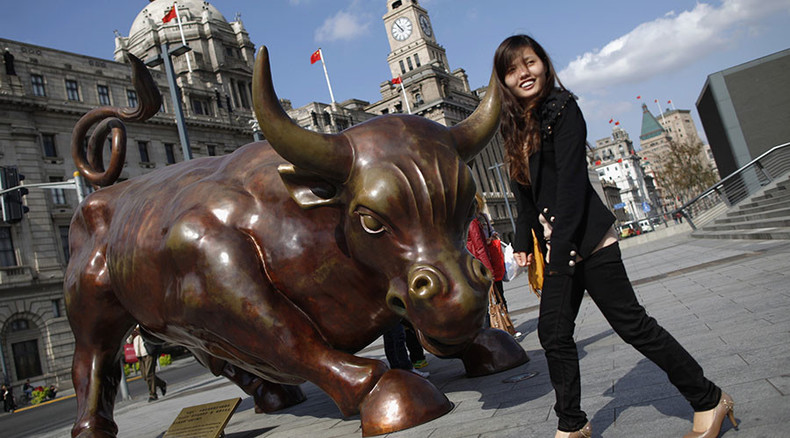 Chinese stocks continued gaining on Friday for a third consecutive session, strengthening positions on a bull market after volatile summer trading.
The Shanghai Composite Index climbed 1.9 percent to 3,590.03 at Friday's close, up 20 percent from its August sell-off bottom. The Shenzhen Composite Index gained 2.82 percent to close at 2,152.43. It jumped five percent on Wednesday, which was its largest daily gain in almost two months. The index has rallied more than 30 percent from its September low.
The stocks rallied on Wednesday, following Chinese President Xi Jinping comments on the country's 13th five-year economic development plan. Beijing set a goal of no less than 6.5 percent growth by 2020, and targeted doubling its 2010 gross domestic product and per capita income.
"The rally in financial stocks is signaling to some investors that the bull market is coming back," a Shenzhen-based trader at Guosen Securities Co, Zhao Bingtong told Bloomberg. "Details on the nation's five-year plan set the positive tone for the market with the Shanghai Composite breaking through the 3,500 level and luring more investors to join."
He added that the market could see some profit takers emerging in the next few days and "whether it will settle above the key mark is crucial in determining the course of the market."
Analysts say that the Asian market has been also encouraged by the rise of US and Europe stocks, that reflected signals of the world's industrial activity stabilizing.
The recovery of Chinese shares occurs as Chinese President Xi Jinping's prepares to meet Taiwanese President Ma Ying-jeou on Saturday. This is the first meeting between the leaders of the two countries since 1949, after China's civil war.
"The meeting is read by investors as an indication that there will be even more economic collaboration," Gerry Alfonso, director of trading at Shenwan Hongyuan Securities was cited as saying by MarketWatch. "This together with the business friendly five-year plan…[is] making the investment environment rather bullish."
Chinese shares started falling dramatically in mid-June with the market value shrinking over 30 percent and losing up to $4 trillion in capitalization in about a month. To support share prices the Chinese authorities cut interest rates, suspended initial public offerings, relaxed margin-lending and banned large shareholders from selling stakes. The government injected about $14 billion into the markets in July to slow the collapse.
In mid-August, China devalued the yuan to boost the country's faltering exports. The measure, however, only added to worries about the country's economic growth despite continued government measures.
LISTEN MORE: