China unveils first homegrown jetliner
Published time: 2 Nov, 2015 09:57
Edited time: 3 Nov, 2015 14:04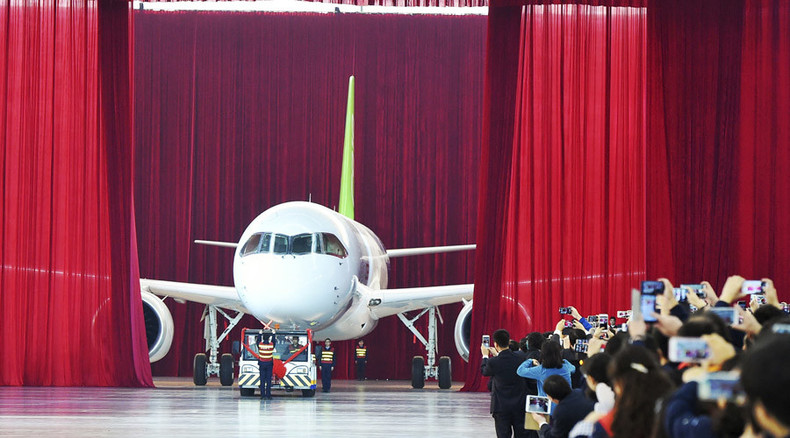 China's first domestically-built passenger jet rolled out of a Shanghai factory on Monday. The C919 is expected to compete with similar Airbus and Boeing models.
The twin-engine C919 is built by the Commercial Aircraft Corporation of China (COMAC). It can carry up to 158 passengers with a range of 4,075 kilometers. A longer range version can fly up to 5,555 kilometers.
The plane's maiden flight is scheduled for 2016, with further tests to follow before it's put into commercial service. First deliveries of the aircraft are planned for late 2018.
The manufacturer said it had already received 517 orders for the aircraft, mostly from domestic airlines. COMAC started developing the C919 in 2008, and expects to produce about 2,000 planes.
China's aviation market is growing fast but relies on Boeing and Airbus aircraft. The country's only experience in creating large aircraft was limited a four-engine narrow-body jet airliner known as the Y-10. The plane was developed in the 1970s by the Shanghai Aircraft Research Institute, but never got past the prototype stage.
"The C919 is targeted as a competitor to the Airbus A320 and also the Boeing 737. This is a very significant program for China. It's basically a major push for the country which wants to be known as a major player in the aviation manufacturing sector," said Mavis Toh, Asia Air Transport Editor for Flightglobal.
Beijing plans to unveil several types of larger airplanes in the near future.