Yatsenyuk threatens moratorium on $3bn debt to Russia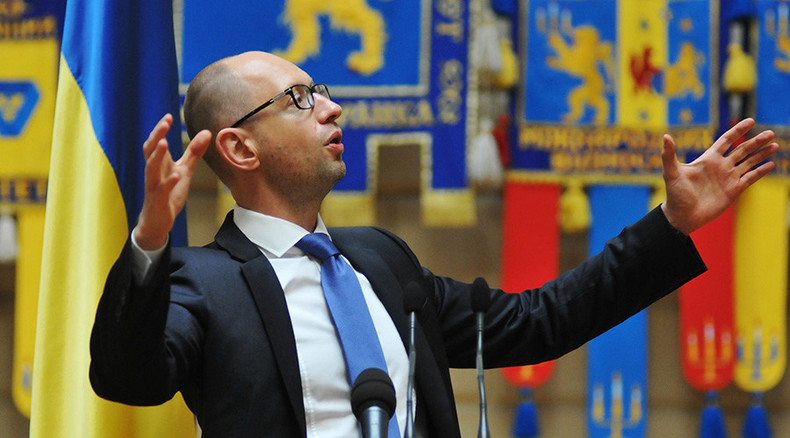 Kiev will suspend payments on Russian debt if Moscow does not agree to restructure the loan due in December, said Ukrainian Prime Minister Arseny Yatsenyuk in an interview with Handesblatt. The Kremlin has repeatedly said it's not interested.
If Moscow doesn't make concessions by October 29, Ukraine will refuse to pay the loan, said Yatsenyuk.
"This $3 billion was in reality a bribe from Russia, so that President Viktor Yanukovich would stop the Association Agreement with the EU," he added.
Ukraine has repeatedly said that its debt to Russia is private. The current IMF policy only allows member states to miss payments to private investors. Kremlin insists that Kiev's debt is a state one and is ready to go to court if Ukraine fails to pay in December.
The question of Russian debt is crucial to Ukraine, because the country's possible default would put into jeopardy a $17.5 billion loan promised by the IMF.
However, according to Russian Finance Minister Anton Siluanov, the IMF is ready to change the rules especially for Ukraine. Officially, the IMF's decision is motivated by a general change in the rules of the organization's funding, but "it is clear that this is done exclusively in order to freeze payments to Russia," Siluanov said.
In 2013, Russian President Vladimir Putin and then Ukrainian President Viktor Yanukovich agreed Moscow would buy $15 billion in Ukrainian bonds. After the first $3 billion, Russia decided not to buy the remaining $12 billion following the Maidan events, that resulted in the overthrow of Yanukovich's government.
LISTEN MORE: