Air France suspends 5 workers over clothes-ripping exec attack (PHOTOS)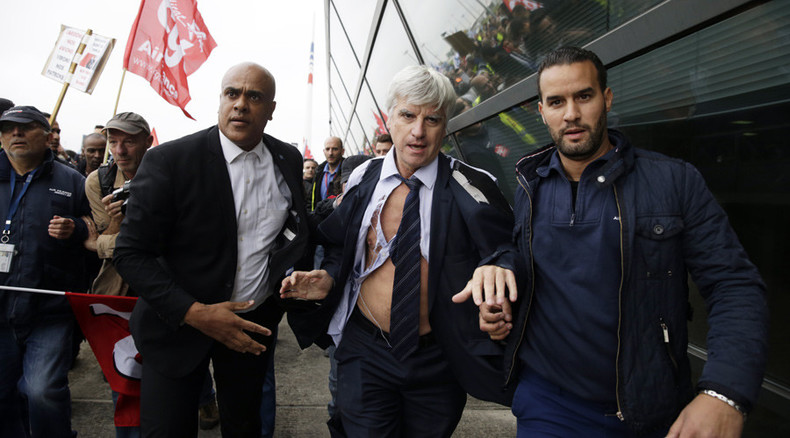 Five Air France workers have been suspended and face trial for an assault on company executives during union protests in early October. The employees are suspected of attacking and stripping their bosses who were meeting to discuss job cuts.
The company sent letters to the workers on Thursday, saying they were suspended without pay in connection with the incident and that disciplinary procedures had been launched against them, reports France 24, citing union sources.
Police detained the men on Monday, following their identification with the help of video footage of the incident, according to an official at the prosecutor's office. They were bailed to appear in court on December 2. The suspects face fines up to €45,000 and up to five years behind bars.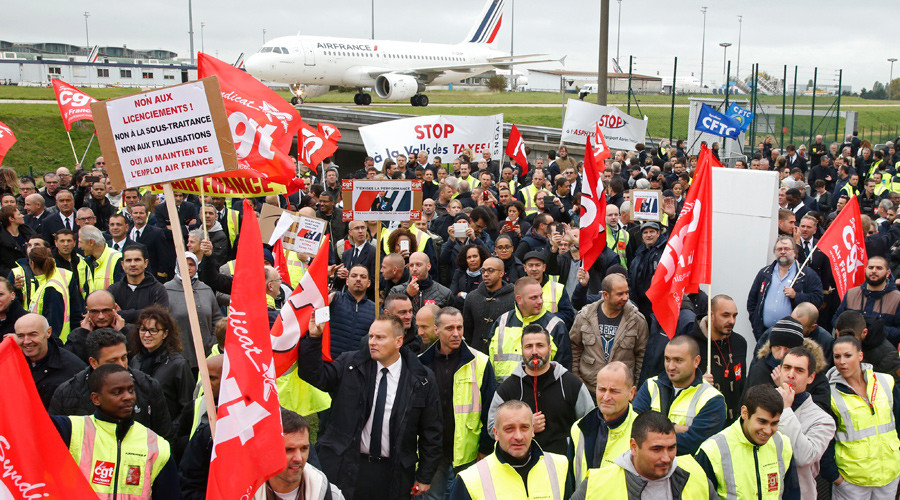 Twenty employees are facing disciplinary measures which could result in warnings or dismissals, according to the airline.
Footage of half-naked airline bosses fleeing from angry workers, hit the headlines on October 5. Several hundred employees stormed the company's headquarters near Charles de Gaulle Airport in Paris where the central committee was holding a meeting. Air France executives were finalizing a restructuring plan, including 2,900 job cuts, which had been unveiled earlier.
Dozens of protesters stormed the meeting, with some attacking managers, ripping off their clothes and forcing them to flee. Deputy Director for Human Resources Xavier Broseta, naked from the waist up, had to scale a fence to escape the angry crowd. Another executive, Pierre Plissonnier, also had his shirt and jacket ripped.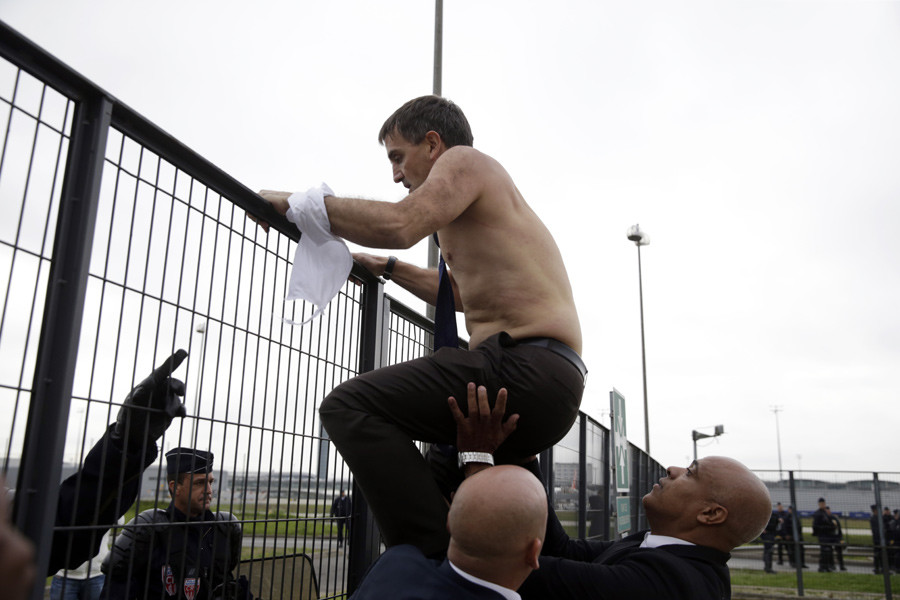 The French airline and the two executives filed complaints with police of aggravated assault. Prime Minister Manuel Valls called the attackers "thugs" and promised Air France's management support from the Socialist government. France's President Francois Hollande said the incident had hurt the county's image worldwide.
Air France is facing difficult times. France's national carrier is trying to end four consecutive years of losses as it struggles to compete with low-cost carriers.