Anti-Russian sanctions will be gradually lifted in the next 3 years – Kudrin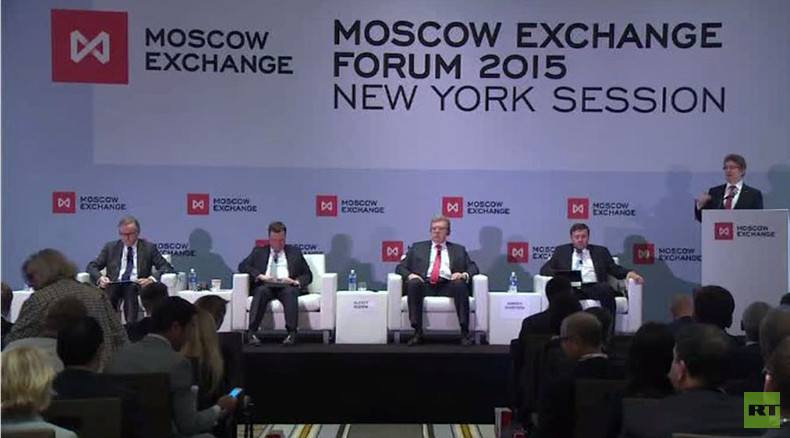 Russia's former finance minister Aleksey Kudrin says that even though sanctions seriously affect the Russian economy, Russia is still investment friendly.
"Sanctions seriously affect the Russian economy... but I think they will be gradually lifted over the next three years as geopolitical conflicts cool… I have a positive outlook on the perspectives for investment in the Russian economy," said Kudrin, speaking at the Moscow Stock Exchange Forum in New York.
"The risks are still high, but there are [foreign] companies that can work in such climate," the former minister said.
"I am sure that now the situation in Ukraine will return to normal. We see serious progress associated with a reduction of the military component of the conflict," Kudrin said. He added that efforts by the EU and Russia have gone some way to reduce the tension in Ukraine.
The forum kicked off on October 7 and was attended by about 400 representatives of global institutional investors and banks, experts in risk management and portfolio managers.
Despite the sanctions, it's business as usual for Russian investment bankers working with US companies. "When it comes to business and doing it with US partners that you have known for ages, sanctions are set aside," says Roman Lokhov of Russia's BCS brokerage firm.
BCS recently bought Alforma Capital Markets, a New York-based company previously owned by Alfa Bank. The company is focused on serving institutional investors and hedge funds in the United States, and its activities are regulated by the Securities and Exchange Commission (SEC).
"Business is business. Well, of course, sanctions are a bad thing, but in terms of business conversation, I don't see any difference. There are lots of people [in the US] we have known for 10 years. Russia is a big country with a big economy and potential for investors. Of course, they are interested in what's going on. Basically, our conversations, the way we do business, remains the same," said Lokhov.
"America is still the largest shareholder of Russian stocks. Then, America is the largest financial centre and we see a lot of institutions willing to access Russia. This is why they are expanding and must be present here," he added.
LISTEN MORE: