Nord Stream expansion to Europe will leave Ukraine in $2bn hole – PM Yatsenyuk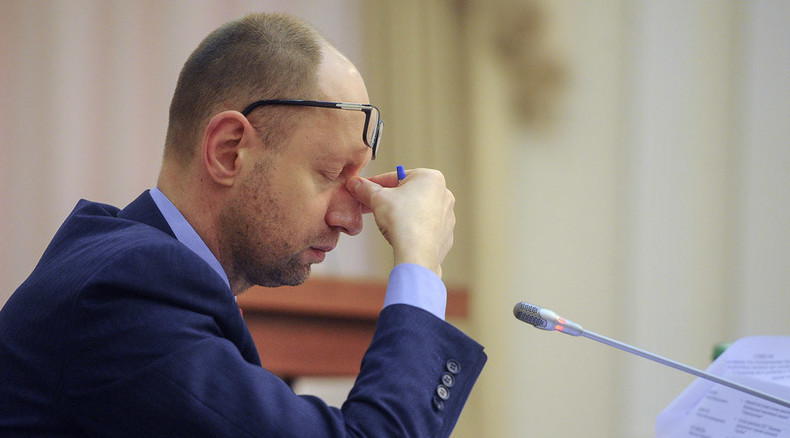 The construction of the Nord Stream-2 gas pipeline means the exclusion of Ukraine from gas transits to the EU, said the Ukrainian Prime Minister Arseny Yatsenyuk.
Nord Steam is an offshore gas pipeline that goes from Vyborg in Russia to Griefswald in Germany under the Baltic Sea bypassing Ukraine.
"What does the construction of Nord Stream-2 mean for the EU? This means that the EU loses the possibility of direct gas supplies through Ukraine via the shortest route. The amount of such a loss is 140 billion cubic meters of gas that could go through the Ukrainian gas transportation system" said Yatsenyuk on Thursday, adding that Ukraine would lose $2 billion in transit fees.
"This means that the construction of the Nord Stream 2 jeopardizes the security and continuity of gas supplies to the countries of South-Eastern Europe," said the Prime Minister.
Moscow has repeatedly expressed concerns over the reliability of gas transit via Ukraine. Gazprom switched Ukraine to a gas prepayment scheme last June due to Kiev's failure to pay its gas bills. In 2019, the Russia-Ukraine gas transit contract expires and negotiations on its extension are now in a deadlock.
In September, Gazprom signed a deal to launch a joint company to construct the new pipeline. The new project will include two pipes that will deliver 55 billion cubic meters of gas annually from Russia to Germany via the Baltic Sea.
Among the shareholders in the project company named New European Pipeline AG will be Gazprom, E.On, Shell, OMV, BASF/Wintershall and Engie (former GdF Suez). Gazprom will hold a 51 percent stake, E.On, Shell, OMV and BASF/Wintershall will have 10 percent each, while Engie will take 9 percent. The project's route is expected to follow the 1,224 kilometers of Nord Stream which opened in 2010. Nord Stream targets markets in Germany, France and the UK, and other EU countries.
On Friday, Gazprom CEO Aleksey Miller, Russian Energy Minister Aleksandr Novak and European Commission Vice President for Energy Union Maros Sefcovic are holding talks on the winter period, the transit of gas through Ukraine, and relations with it as a whole. Nord Stream-2 will also be discussed.
LISTEN MORE:
You can share this story on social media: