Italy to invest $2bn in Iran projects as Tehran gets back to business
Published time: 5 Aug, 2015 15:52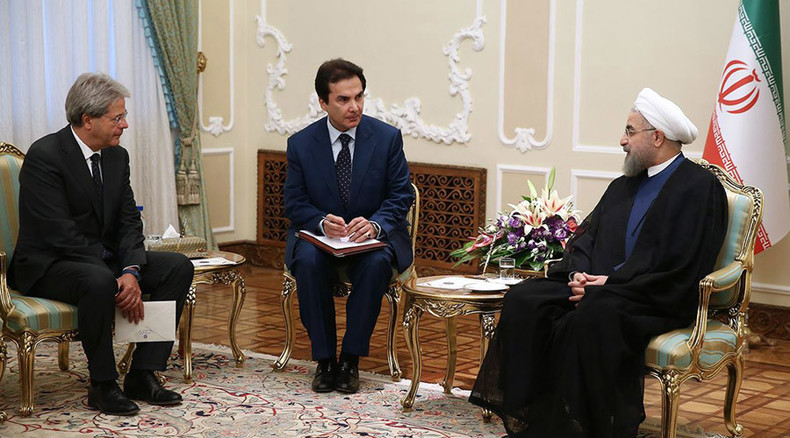 Italy and Iran have signed a deal which could see investment in Iranian projects worth $2 billion. The agreement aims at reviving trade and economic ties between the countries after Western sanctions against Tehran are removed.
The countries plan joint industrial, construction and infrastructure projects, and have already agreed on expanding commercial transactions and promoting relations, a joint press release by Italian investment bank Mediobanca and Italy's development ministry and export credit agency SACE said on Tuesday.
The Italian bodies signed a memorandum of understanding in Tehran with Iran's economy ministry and central bank.
The parties expect a €3-billion increase in Italian exports to Iran in the next three years, mostly in the mechanical engineering, energy and transport sectors.
​Iranian nuke deal: Breath of fresh air for Tehran
Italy remains one of Iran's key commercial partners even after pre-sanction annual trade between the two countries plunged from $7 billion to $1.5 billion. The countries should double the trade turnover in the near future, Iran's Economy Minister Ali Tayebnia told reporters.
Italy becomes the first European country to sign agreements with Tehran after the conclusion of nuclear talks last month. Iranian President Hassan Rouhani earlier called on Europe to take advantage of the moment and strengthen mutual relations.
Delegations from France, Germany and Serbia have already visited Tehran to discuss trade and financial issues. Spain and Switzerland are expected to be next.
The nuclear deal reached in Vienna between Iran and six world powers in July, was already unanimously endorsed by the UN Security Council. Sanctions will be lifted over the next 10 years if Tehran adheres to the agreement.
READ MORE: Iran nuclear deal gets UN endorsement, paving way for sanctions relief
Iran agreed to the continuation of the UN's arms embargo on the country for up to five more years and ballistic missile restrictions for up to eight years.
Despite accusations from the West, Iran has repeatedly denied having a military nuclear program, insisting the program was solely for peaceful purposes.