New restrictions from Beijing boost Chinese stocks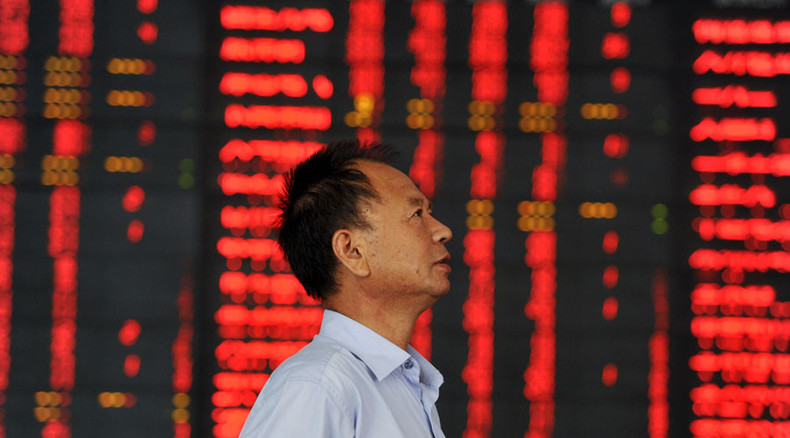 The Shanghai and Shenzhen exchanges that make China the second biggest equity market in the world, prohibited traders from borrowing and repaying stocks on the same day, making it difficult to benefit from hourly price fluctuations in the stumbling market.
As a result, the Chinese markets that have lost some 30 percent since June, closed with a solid growth on Tuesday. Shanghai Composite, an index that tracks the daily price changes of shares listed on the Shanghai Stock Exchange gained 3.69 percent. The index reached 3,756.545 points, which is still far from 4,500, a target set by the government. The Shenzhen Stock Exchange Composite index grew even more, showing an impressive 4.77 percent rise.
READ MORE: China stocks suffer biggest one-day loss in 8yrs, Shanghai Composite drops 8.5%
The upsurge marks a change from a three-day fall for the two Chinese key indices. This was the best session for the Shanghai since a 4.5-percent gain on July 10, and the best for the Shenzhen since a 5-percent growth on July 17.
Citic Securities and Huatai Securities, one of the biggest brokerage firms in China, have already complied with the rules by banning their short-selling services. They were soon joined by Great Wall Securities.
"In order to comply with urgent changes in exchange rules and control business risks, as of today we are temporarily halting our short selling business," Citic said in a statement quoted by Reuters.
The China Securities Regulatory Commission (CSRC) is also tackling short-sellers. CSRC is looking into automated trading strategies used by hedge funds to benefit from volatility in the markets.
On Monday, it froze a trading account of Citadel Securities, a unit of the US group that also owns hedge fund Citadel LLC. Citadel said it was complying with the rules.
CSRC, which is in charge of stabilizing the market, has injected $32.21 billion since July into five newly launched mutual funds to soften the market collapse, according to data on Tuesday from the official China Securities Journal.
The commission also announced in July that any shareholder with more than a 5-percent stake in any Shanghai or Shenzhen listed company, including foreign investors, should not reduce the holdings over the next half a year.
The China Securities Finance Corp. has given some $42 billion to help brokerages buy stocks through proprietary trading. The body has also launched a $19.5-billion fund uniting 21 brokerages and has up to $483 billion on tap to support the market.
You can share this story on social media: