'Guilty': Ex-UBS & Citigroup trader jailed 14yrs for key rate manipulation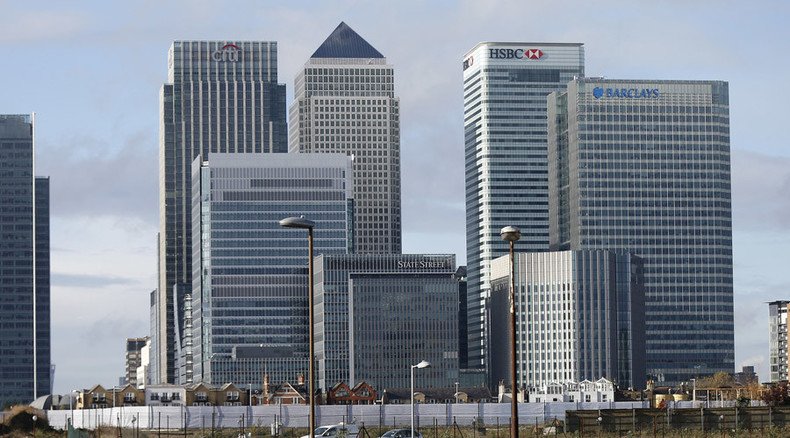 Tom Hayes, a former yen derivatives trader at UBS and Citigroup, has become the first person found guilty of rigging benchmark interest rate. Along with other traders, he manipulated Libor, a benchmark for interest rates on trillions of dollars.
Former trader Hayes, 35, was found guilty of eight counts of conspiring after a nine-week trial in London.
Hayes was accused of being a kingpin of a group manipulating yen Libor by asking rate setters and traders at UBS and several other institutions to move the rates up or down depending on his needs.
READ MORE: Swiss UBS first to pay $545mn fine over forex rigging
He was also accused of encouraging brokers to help him influence other lenders to do the same manipulations or canceling their daily emails saying where Libor should be set on a certain day.
Hayes paid his accomplices by a system of wash trades, regarded by the courts as bribery.
The Serious Fraud Office arrested Hayes in December 2012, just before the US Department of Justice launched a parallel probe.
Prior to his arrest, he gave 82 hours of taped interviews in which he admitted his wrongdoing. He only co-operated with the SFO because of milder courts in Britain. However, he later altered his decision, as he became angered with the process.

In his defense speech, Hayes said he initially confessed to the crimes because he was "frozen with fear" that he would be extradited to America, adding that he never believed he was being dishonest.
"I wanted to do my job as perfectly as I could. It doesn't matter if I was cleaning a deep fat fryer or picking chicken off the bone, those jobs were left to me because I'd do them the best possible," he testified, FT quotes.
Hayes 'team' included more than 25 other brokers and traders, seven of whom worked at UBS. That included Mike Pieri, Simon Oddie, Mirhat Alykulov, Roger Darin, Joachim Ruh, Rolf Keiser and Yugo Matsumoto, FT reports.
So far, only Darin has been charged in the investigation by US authorities. Darin has not yet been arraigned in the US.
The London Interbank Offered Rate - Libor - is the primary global benchmark for $450 trillion of short-term interest rates, used for a range of retail products, such as mortgages and student loans worldwide.
You can share this story on social media: