Global carmakers prepare to return to Iran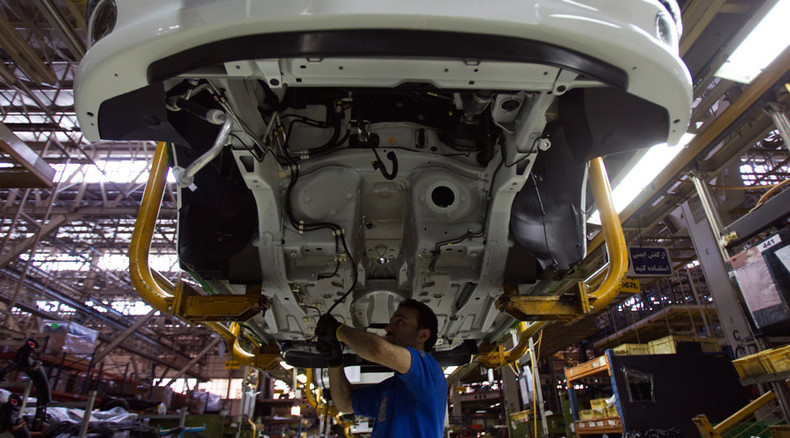 World carmakers have waited a long time to return to Iran, the biggest automobile market in the Middle East. When they re-enter after the international sanctions are dropped they will have to compete with Chinese rivals, the FT reports.
If Iran manages not to breach the rules of the nuclear agreement with the six leading powers, big car makers from volume manufacturers like France's Peugeot Citroën and Renault to luxury brands like Volkswagen-owned Bentley will try to win back a share in the new market, says the Financial Times.
READ MORE: ​Iranian nuke deal: Breath of fresh air for Tehran
Peugeot plans to move technology and source parts locally to build cars based on the newly-developed Peugeot architectures and engines, the Wall Street Journal reported.
"This project will deliver a generational leap," the Iranian nuclear deal "allows for a significant advance in our ongoing discussions," said Jean Christophe Quemard, the company's director for the Africa and Middle East region on Tuesday.
Renault and Peugeot had dominated the Iranian market, shipping "complete knockdown" (CKD) kits to Iran to be assembled by local manufacturers such as Iran Khodro and Saipa.
Peugeot sold around 400,000 cars a year in 2012, when it abandoned Iran due to pressure from General Motors which had a 7 percent share in the company at the time, and was considered a probable merger partner. GM has sold its stake since then.
By the end of the decade Iran could become an important regional center of the automotive industry by increasing car production to 3-4 million a year, the global head of automotive at investment bank Rothschild, Vikas Sehgal told the FT.
However, "Western carmakers . . . will find the landscape changed by new competitors from China," said Zakia Subhan, an analyst at LMC.
For example, Zhejang Geely is interested in opening a 20,000 units-per-year CKD plant in Iran.
Chery Auto, Lifan Industry and Jianghuai have also made a profit from the French giants' absence in Tehran due to sanctions. The Chinese manufacturers provide competitively priced vehicles and filled the void that emerged.
On Tuesday Iran and the six international mediators (the US, UK, France, Germany, Russia and China) signed a crucial deal on settling the long-term problems of the Iranian nuclear program. Sanctions are yet to be lifted, as the International Atomic Energy Agency, the UN watchdog, has to confirm that Tehran meets the demands of its supervisors.
Russia is also interested in the market that sold 900,000 cars and produced 1.1 million last year, according to the FT. Moscow and Tehran are discussing the creation of a joint venture to produce cars and road building equipment, the Russian Ministry of Industry and Trade said Tuesday.