Iran signs oil contracts for 2015, aims at pre-sanctions capacity in Europe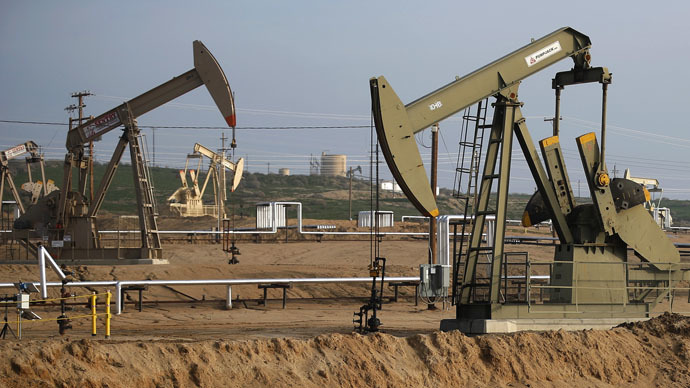 Tehran has signed a package of contracts to deliver its oil in 2015 Iran's Petroleum Ministry said a day after the country struck a deal with six world powers over its nuclear program.
"Oil sales contracts have been signed for 2015," Petroleum Ministry of Iran tweeted in Persian.
قراردادهای فروش نفت برای سال ٢٠١٥ امضا شده است http://t.co/bsoyefw9RK

— MinistryofPetroleum (@VezaratNaft) July 15, 2015
The National Iranian Oil Company (NIOC) also said it was due to increase oil extraction in all of its fields for a total of 4 million barrels per day in 2015 if there is "sufficient market demand." That is the level of crude production the country had reached before the imposition of Western sanctions.
"We want to reach our pre-sanctions capacity. We tested a production increase in the main oilfields last year," Roknoldin Javadi, NIOC managing director told Iran's Shargh newspaper.
"This year we have been ordered to increase production in all fields," he said.
READ MORE: Iranian nuke deal: Breath of fresh air for Tehran
Iran will attempt to win back its 42-43 percent share of the European market after Western sanctions are lifted, the head of international affairs at NIOC, Seyed Mohsen Ghamsari said. Iran's traditional customers - China, India, South Korea, Turkey and Japan - have increased oil purchases, according to Ghamsari. He expressed hopes that the lifting of sanctions would increase Iran's oil sales on the global market.
The country has about 30 million barrels of crude in storage, which is estimated to be some of the largest reserves in the world. Around 200,000 barrels of crude exports per day is expected from Tehran in the short-term. This will add to a current surplus of about 2.6 million barrels a day.
READ MORE: Oil, ruble drop as Iran nuclear deal reached
On Tuesday, Iran and six major world powers reached a conclusive deal on the Iranian nuclear program. Iran agreed to the continuation of the UN's arms embargo on the country for up to five more years and ballistic missile restrictions for up to eight years. Tehran agreed to a 15-year moratorium on enriching uranium beyond 3.67 percent and to store no more than 300 kg of low-enriched uranium.
The economic sanctions that are to be lifted could be restored within 65 days if Iran doesn't comply with the terms of the deal. The deal also means the EU will lift sanctions on part of the SWIFT global payment system, banking operations and insurance.
Despite accusations from the West, Iran has repeatedly denied having a military nuclear program, insisting the program is solely for peaceful purposes.
You can share this story on social media: