Putin inks law on rating agencies' activities in Russia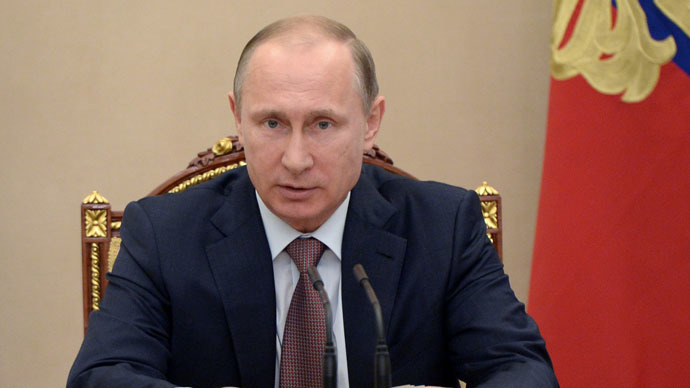 Russian President Vladimir Putin has signed a law regulating the activity of ratings agencies in Russia, as discontent over 'politicized' actions of the Western Big Three – S&P, Moody's and Fitch – is growing.
The document sets a basic definition of rating activity, and its terms in Russia defines the procedure for accreditation of rating agencies, RIA Novosti reported on Tuesday.
Under the new law "legal entities established in the legal form of business entity have the right to exercise the rating activity on the territory of the Russian Federation," after the Russian Central Bank puts information about them in the register of credit rating agencies. It also establishes the minimum amount of equity for rating agency at $880,000 (50 million rubles).
The Central Bank of Russia will carry out the accreditation of rating agencies. It will maintain the rating agencies register, carry out inspections, direct orders along with other enforcement actions.
READ MORE: Russian Central Bank voids Standard & Poor's, Moody's, Fitch ratings
Non-accredited rating agencies will also have the right to operate in Russia, but the law implies referencing only to accredited rating agencies. The Central Bank has also the right to establish the usage patterns of assigned credit ratings that are registered outside Russia.
The rating activity is recognized as exceptional and may not be combined with other activities, according to the law. The rating agency should ensure independence of its activities from any political and economic influence, prevent and detect conflicts of interest. It cannot withdraw the ratings assigned by the national rating scale based on the decisions of foreign states or international unions.
READ MORE: China and Russia to launch new credit rating agency in 2015
The law on the activities of credit rating agencies in the Russian Federation was approved by the Federation Council on July 8.
The law was developed following the activities of international rating agencies in early 2015. The 'Big Three' (Fitch, Moody's and Standard & Poor's) in January downgraded the sovereign ratings of Russia. Russian authorities then called those actions groundless and political. It was decided then that Russia should stop action-oriented ratings of the 'Big Three'.
In January, Russia and China decided to set up a new Universal Credit Rating Group (UCRG) to rival the existing three that according to some analysts don't provide an accurate reading of economic situations. The Central Bank of Russia (CBR) also decided to void the ratings from Standard & Poor's, Fitch, or Moody's that were assigned after March 1, 2014.
You can share this story on social media: