Greece may apply for BRICS bank, but not discussed officially – Putin's aide
The issue of Greece joining the BRICS bank hasn't been officially discussed, one of President Putin's top aides Yuri Ushakov told RT, Vesti and Ria, commenting on media reports that Athens had been invited to join the institution.
Rumors about Greece possibly joining the bank emerged ahead of the leaders of Russia, China, Brazil, India and South Africa preparing to launch their own development bank at a the seventh summit of the organization in Russia's Ufa later this week.
READ MORE: Russia invites Greece to join BRICS bank
"There has been speculation in the media that Greece may apply for accession to the New Development Bank. We know of these assumptions, but so far no one has officially discussed such an option with us," Yury Ushakov, President Putin's aide, said.
The top official revealed that the upcoming discussions are going to "touch on the parameters of the practical operation of the BRICS' New Development Bank (NDB) and currency reserve pool."
READ MORE: BRICS establish $100bn bank and currency pool to cut out Western dominance
"They don't constitute an attempt to oppose the International Monetary Fund or the World Bank," Ushakov stressed. These institutions are rather new instruments for "addressing our shared objectives," he said.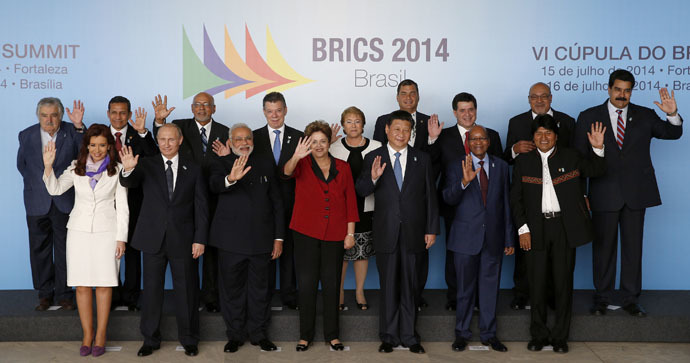 The NDB is just launching its operations, Ushakov noted, and it still has to "set out its priorities and start to function."
"And it certainly won't start its operations with Greece," Ushakov added, pointing out that the NBD has "its own tasks and challenges to deal with."
The issue of Greece is going to be discussed anyway, but not in the context of its accession to the NDB "even in the long term," the presidential aid said.
The BRICS' New Development Bank has an initial capital of $50 billion and is believed to have triggered a major reshape of the Western-dominated financial system. The NDB is expected to be up and running by the end of the year.
The BRICS countries are also busy creating an alternative to the US-dominated western SWIFT payment system.
READ MORE: GDP of BRICS could surpass G7 in 2-3 years - senior Duma MP
The potential of the bloc of emerging economies can't be underestimated. These five countries from four continents account for 42 percent of the world's population and 27 percent of global GDP.
Just 20 years ago, these countries were uncompetitive with most industrialized G7 countries.
Now the BRICS member states are believed to have outgrown the G7 economies in a matter of a few years and now exercise a major impact on the world's economy.
You can share this story on social media: