BRICS could sign economic cooperation in 5yrs - minister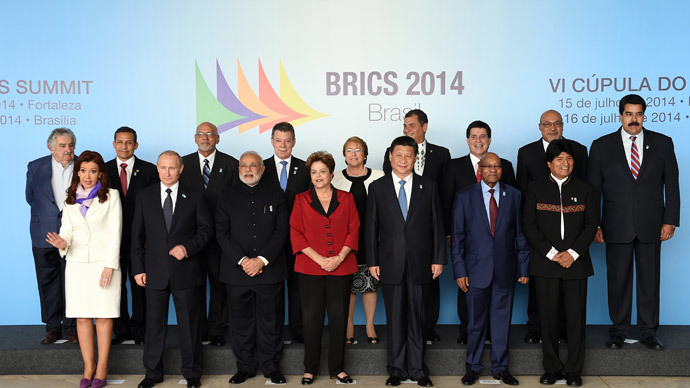 The BRICS countries may sign an agreement on economic integration in the next 5 years, says Russia's Deputy Economic Development Minister Alexei Likhachev. Russia will offer a 'road map' at the BRICS summit in Ufa this week, he said.
Although the group of 5 BRICS countries was initially designed as a "group of allies," it has started to look like an economic block, Likhachev told TASS Monday.
"Of course, it is premature to talk about a BRICS economic agreement. But if the approach and the crystallization of our association as an international group takes place at the same pace as now, then an economic agreement within a few years will be quite timely and inevitable. I think it can happen within five years," he said.
READ MORE: Ufa ready to host BRICS and SCO summits - republic's head to RT
There's no rush for a free trade zone agreement because the countries are not yet ready for it psychologically, according to Likhachev. The terms of an agreement are already being discussed, he added.
There's already a joint research team to develop a preferential trade regime between India and the Eurasian Economic Union (EEU), the minister said. Russia is ready to discuss the issue of a free trade zone with South Africa as the counties' economies do not compete in key areas but rather complement each other, according to Likhachev. As for Brazil, there could be some difficulties as the country's economy competes with Russia. When it comes to a preferential regime with Brazil, Russia rather needs it than not, Likhachev said. He added that Russian companies have expressed an interest in the Brazilian market, and it could lead a way to Latin America as a whole.
The BRICS economic agreement will develop in several stages, Likhachev claimed. At first it will be a declarative document, guiding countries to more active cooperation. Then it could be non-preferential agreements that optimize regulatory systems, simplify customs and investment procedures and create the so-called "green corridors" for goods. The third, preferential regime phase will consist of concessions that BRICS countries will make in terms of commodity trading.
He also assumed that the idea of a preferential trade agreement could be discussed at the upcoming BRICS summit in Russia's Ufa.
READ MORE: BRICS establish $100bn bank and currency pool to cut out Western dominance
Russia will offer BRICS partners a "road map", closely linked with the strategy of economic cooperation project, according to Likhachev. This will help finance projects from the New Development Bank (NDB), established by the group of emerging economies last July.
The strategy of economic cooperation has been discussed by Russia and its BRICS partners since 2013. It covers areas such as power, manufacturing, mining, agribusiness, and innovative technologies. These areas develop in the "road map" in a form of multilateral projects of major companies like Rosneft or Inter RAO, along with medium-sized companies, according to Likhachev. Scores of Russian companies' projects currently participate in it as well, he said.
"We believe that the strategy will be adopted this week in Ufa as a medium-term program of action."
Russia's Republic of Bashkortostan will host the 7th BRICS summit and the Shanghai Cooperation Organization (SCO) summit in the capital Ufa on July 8-10. 10,000 visitors are expected during the two summits.
You can share this story on social media: