Indonesian ban on foreign currency payments comes into force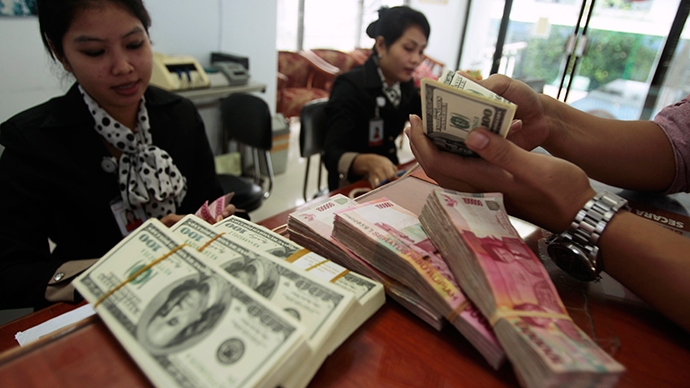 The Central Bank of Indonesia has put into force a complete ban on the use of the US dollar and other foreign currencies in all financial transactions in the country to stop the rupiah free fall.
The ban, effective from July 1, 2015, was first announced by the head of Bank Indonesia Eco Yulianto in April.
He said then that the ban is on any transactions, including payments for hotel accommodation, flights, rental property and the payment of wages, as well as fixed prices in any other currency except the Indonesian rupiah. Breaking the law can be punished with imprisonment of up to a year or a fine of $15,000.
However, the central bank later said it made an exception for international companies who will still be allowed to pay their foreign employees in dollars.
READ MORE: Russia and Indonesia may switch to settlements in local currencies
Another exception is the companies that invest in the construction of energy facilities and infrastructure. Bank Indonesia said it is considering other exceptions for investment in strategic industries as a special case.
Hotels and restaurants are allowed to set prices in dollars as part of their product promotion on the internet, but payment should be made in rupiah.
The rapid depreciation of the Indonesian rupiah against the US dollar made it the least successful national currency in the developing Asian countries. In March 2015 the currency plunged to a 17-year low having lost seven percent since the beginning of the year. Its exchange rate stood at 13,384 rupees to the dollar in mid-June.
In April Indonesia reaffirmed its readiness to switch to settlements in local currencies with Russia. The Indonesian Coordinating Minister for Economic Affairs Sofyan Djalil said it is interested in reducing the dependence of the US dollar on the global financial system.
You can share this story on social media: