​Russia prices gas for Ukraine at $247, cuts discount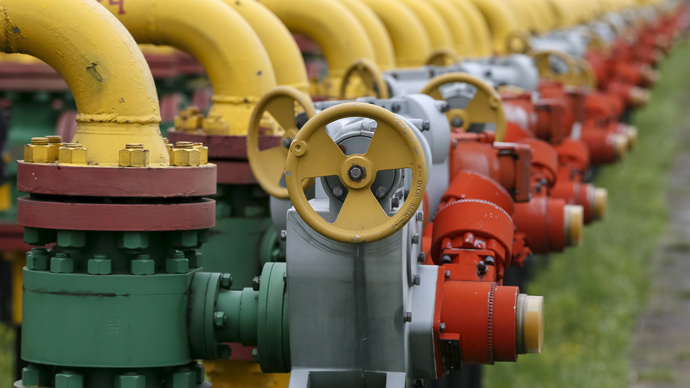 For the next three months, Ukraine will pay $247 per 1,000 cubic meters for Russian gas, said Prime Minister Dmitry Medvedev a day before the so-called 'summer gas package' for the second quarter expires.
Russia won't be able to maintain the same discount of up to $100 per 1,000 cubic meters, Medvedev said. The next steps on setting the gas price for Ukraine will depend on global energy prices and the situation in the world economy, he added.
"The prices for oil and subsequently for gas have greatly subsided, so the discount will be $40 per 1,000 cubic meters," said Medvedev at a meeting with Energy Minister Aleksandr Novak and the head of Gazprom Aleksey Miller on Monday.
Although Russia cannot provide Ukraine with the same discount on gas, the new price corresponds to the prices set for neighboring countries, including Poland, he said.
On April 1 Gazprom and Naftogaz signed an agreement on gas supplies for the second quarter of 2015, known as the 'summer package'. The price of Russian gas under the current contract is $247.18 per thousand cubic meters which includes a $100 discount.
READ MORE: Gazprom asks govt to extend Ukraine's gas discount for 3 months
The Russian government provided Ukraine with a discount from November 2014 to the end of the second quarter of 2015. The discount was calculated as a reduction in customs duty, as it makes up 30 percent of the contract price, but should not exceed $100 per thousand cubic meters. Since the contract price was higher than $333.33 during the entire period, the discount was calculated at $100.
A meeting between Russia, Ukraine and the EU over the gas issue will take place on Tuesday, June 30, in Vienna. The three parties plan to discuss Ukraine pumping gas into underground storage facilities, said Russian Energy Minister Aleksandr Novak on Monday. They also plan to discuss the possibility of providing Ukraine with financial support from the EU so the country can purchase all the gas it needs, he added.
According to the latest estimates, Ukraine needs to fill its underground storage facilities with 18 billion cubic meters of gas in order to have enough for the winter heating season of 2015-2016.
You can share this story on social media: