​Greece rejects 'exceptionally generous' counterproposals by creditors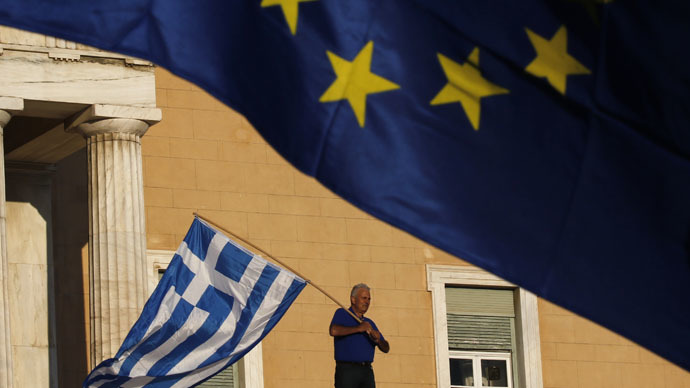 Greek Prime Minister Alexis Tsipras and international creditors have failed to reach a common ground on tax and reform proposals, which adds more doubts over the country's chances of averting an imminent debt default.
The lack of concrete proposals coming from the Greek side, according to representatives of the lending institutions, is the main stumbling block in its talks with the European Commission, the European Central Bank and the International Monetary Fund (IMF). Such an attitude they say is more likely only to impede progress in the negotiations.
"Our impression is that there's still a long way to go," said German Finance Ministry spokesman Martin Jaeger on Wednesday at a government briefing in Berlin. He added that lending institutions have made "exceptionally generous" concessions to the Greek government, and "it's now up to the Greek side to show some movement."
Meanwhile, the Greek PM insists that the country's reform plan is equivalent to the counterproposals by the creditors, but much less recessionary.
"The non-acceptance of equivalent measures is unprecedented. Neither in Ireland nor in Portugal were they rejected. Nowhere! This strange stance may be due to two reasons. Either they do not want an agreement or they serve specific interests in Greece," Tsipras said in his official Twitter account.
After the talks late Wednesday night stalled, a Greek official said that the government "remains firm on its positions" with regards to negotiations, according to Reuters. The talks are set to resume Thursday morning, with technical teams expected to meet again as early as 4:00am GMT.
READ MORE: PM Tsipras says Greek creditors didn't accept reform plan
While Athens is proposing to increase corporate tax rates from 26 percent to 29 percent, the creditors want it to be no more than 28 percent along with a more drastic pension reform to additionally save up to 1 percent GDP. Both sides are also unable to reach an agreement over VAT rates. The lenders also insist on the abolition of tax exemptions for island inhabitants, which are expected to be balanced by the increase of VAT, and the cancellation of tax exemptions on fuel for agriculture.
Greece should not limit its proposals to promises of more tax revenue and must present "credible" reform plans, said IMF chief Christine Lagarde in an interview published by French magazine Challenges on Wednesday.
"You can't build a program just on the promise of improved tax collection, as we have heard for the past five years with very little result," she told the magazine.
READ MORE: 'Save Greece from EU prison!' Desperate debt graffiti daubed all over Athens
Wolfgang Schaeuble, the Finance Minister of Germany, the country to which Greece owes the most, said he did not expect any deal on Wednesday as the negotiations had seen no advance.
Greece and the Troika of international lenders have been trying to resolve the issue of the country's multibillion euro debt already for five months. The leftist party Syriza, headed by Tsipras, came to power with an election pledge to put an end to austerity, while the troika insists the Athens should fulfill its obligations and refuses to restructure its debt on the terms proposed by the current Greek government.
The creditors want Athens to hit a target primary budget surplus of 1 percent of annual GDP by the end of the 2015 in the hope of achieving a 2 percent target in 2016 and 3 percent in 2017.
Meanwhile Greek citizens fear the country may default on its huge debt and exit the Eurozone, as there is high possibility it won't receive the €7.2 billion ($8 billion) installment of the second bailout program and will be unable to repay €1.6 billion (nearly $1.8 billion) of debt to the IMF by June 30.
You can share this story on social media: