China and Australia sign 'historic' free trade agreement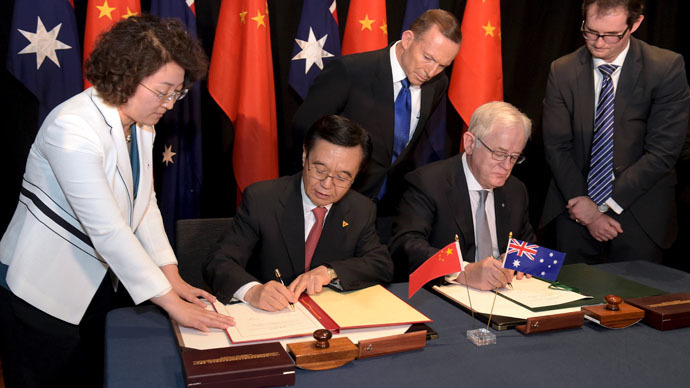 After a decade of negotiations China and Australia have sealed a free trade agreement which is expected to deliver a $20 billion boost to mutual trade by 2035. Currently trade between the two stands at almost $160 billion annually.
The deal was signed by Australia's Trade Minister Andrew Robb and China's Commerce Minister Gao Hucheng in Canberra on Wednesday. Both governments concluded negotiations on the free trade agreement in 2014, now it has to be ratified by their parliaments to come into effect.
Australian Prime Minister Tony Abbott described the deal as historic for both countries and said it will change the "world for the better."
Gao praised the deal, which was struck late last year, as "comprehensive, high-quality and balanced."
"It has the highest degree of liberalization amongst all the FTA's China has so far signed with another economy," he said.
While Australia is a leading trading nation, its "prosperity depends on trade and the jobs and economic growth it creates," Prime Minister Abbot said. He also added that Australian consumers would pay less for cars, clothes, electronics and other goods imported from China.
READ MORE: China, Australia sign landmark free trade deal
China is Australia's biggest trading partner, it buys almost a third of all Australian exports. Beijing plans to import more than $10 trillion worth of goods and services and invest more than $500 billion in the coming five years in Australia, Chinese Ambassador Ma Zhaoxu said, according to Xinhua News Agency.
Under the China-Australia Free Trade Agreement (ChAFTA), Australia hopes to get better market access to China, improve its competitive position, increase two-way investment and reduce import costs.
More than 85 percent of Australian exported goods will be tariff free, rising to 95 percent on full implementation. Australian businesses currently face tariffs of up to 40 percent on goods exported to China.
Tariffs will be progressively abolished for Australia's $13 billion dairy industry as well as Australian resources and energy products. The volume of Australian iron ore exports to China last year reached a record 548 million tons, up by 31.6 percent since 2013.
A wide range of Australian manufactured goods, including pharmaceutical products and car engines will also see tariff cuts.
ChAFTA includes significantly improved access to China for Australian banking, health and aged care and professional services.
Chinese companies can bring in workers for projects valued at $150 million or more to allow increased labor flexibility, however Australian unions have raised concerns that it will undermine Australia's workforce.
Alongside ChAFTA, Australia and China have also completed negotiations on a Work and Holiday Arrangement (WHA) under which Australia will grant visas for up to 5,000 Chinese workers and tourists annually.
The agreement also completes a trio of trade agreements with Australia's top export markets, China, Japan and Korea.