​'We have bled enough': Communists in Greece blockade Finance Ministry in austerity protest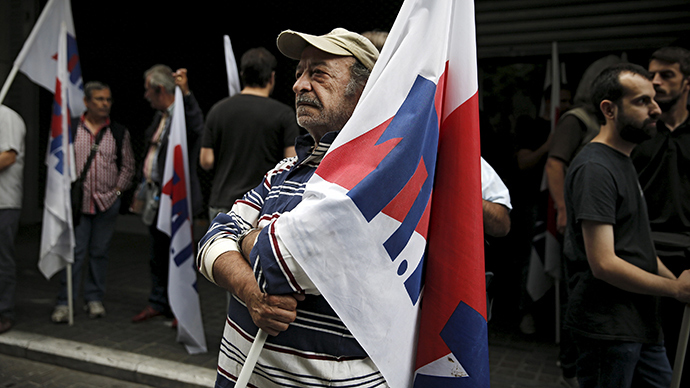 Members of the Greek trade union PAME have occupied the Finance Ministry, blaming the government for its inability to pull the country out of the crisis.
About 200 people invaded the Finance Ministry building in Athens, said Germany's dpa.
The activists climbed onto the roof and hung a huge anti-government banner at the front of the building.
"We have bled enough, we have paid enough. Take matters in your own hands Greek people! Block the new measures and long-term bailout agreements," said the giant banner, depicting Greece's last three prime ministers George Papandreou, Antonis Samaras and Alexis Tsipras.
Communist-backed union stages protest at Finance Ministry, drapes banner at building #Greecehttp://t.co/dLRL7Cqb2tpic.twitter.com/nv1X6YNHcC

— Derek Gatopoulos (@dgatopoulos) June 11, 2015
The protest came as Tsipras visited Brussels, trying to persuade the troika of international creditors – the IMF, the ECB and the European Commission - to unlock a €7.2 billion tranche, needed by Athens to avoid a default.
READ MORE: S&P downgrades Greece, warns of default if no deal with creditors
Tsipras will meet EU Commission President Jean-Claude Juncker on 12:00 GMT Thursday to continue the bailout talks.
Later on Thursday Athens will see Greek trade unions hold a rally against the government of Tsipras and the growing unemployment, which increased by 0.5 percent to reach 26.6 percent in the first quarter of this year. The meeting is scheduled for 5:30pm GMT.
Throughout the country, 700 trade unions and other labor organizations will protest in 59 cities.
Athens does not intend to show a primary budget surplus of one percent in 2015, as required by the European Commission and the International Monetary Fund, Greek Finance Minister Yanis Varoufakis said earlier Thursday.
Greece initially promised to reach a 0.6 percent surplus this year, then improved the offer to 0.75 percent.