​Thanks to sanctions Russia turned to Asia – Medvedev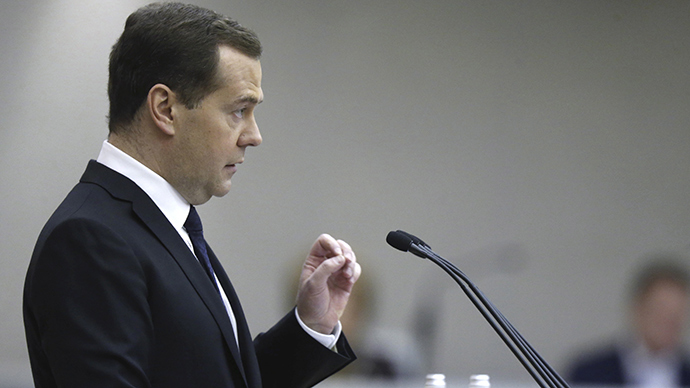 Western sanctions have encouraged Russia to work more actively with Asian partners, Russian Prime Minister Dmitry Medvedev said prior to this month's EU summit in Brussels. The EU will then make a decision on anti-Russian sanctions.
"In economic terms, of course, all those sanctions, introduced against us, stimulated us to ensure more active cooperation with Asian countries. Thank you very much too all those states that have adopted them," Medvedev said to reporters at XVII World Congress of Russian Press Thursday.
READ MORE: Russia, China agree to integrate Eurasian Union, Silk Road, sign deals
Its high time Russia turned to Asia, as the West don't give money and push Russian companies out of business, he added.
Russia's choice of trading partners will be based on national interests, but the markets in the Asia-Pacific region and BRICS are of utmost importance, said the PM.
"Sixty percent of the world GDP is there. The whole global growth is mainly in the Asia-Pacific region and in the BRICS countries. Therefore, it is essential for us to gain a foothold in the partner states of the Eurasian Economic Union and the Asia-Pacific region,"said Medvedev.
However, Russia hasn't closed the door to Europe, he added.
Baltic partnership suffers
During his speech, Medvedev paid special attention to Russian trade relationship with the Baltic states.
READ MORE: Baltic Fortress 2015: NATO warships start drills off Lithuanian coast
Estonia, Latvia and Lithuania suffered badly from Russian counter-sanctions, he said.
"You know, we were forced to declare the so-called counter-measures, sanctions, as they are sometimes called, counter-sanctions. I looked, [Russian – ed.] trade turnover with Latvia fell by 40 percent, Lithuania – 30 percent, Estonia – 25 percent. We understand how significant these figures are for the Baltic countries. These are largely agricultural products, you won't find them in our markets," Medvedev said.
The last 25 years were in vain and the reasons are political. No business can be made, when Russia has an enemy image amid Soviet phobia there. However, Moscow is ready to develop sound relations with the Baltic countries, he said.
The EU summit will take place in Brussels on June 25-26. The EU will decide whether to prolong the economic sanctions against Russia expiring in July. The sanctions were introduced over the reunification of Crimea with Russia, and its stance in the Ukrainian crisis.
You can share this story on social media: