Kiev hopes to sell state-run companies to US investors - PM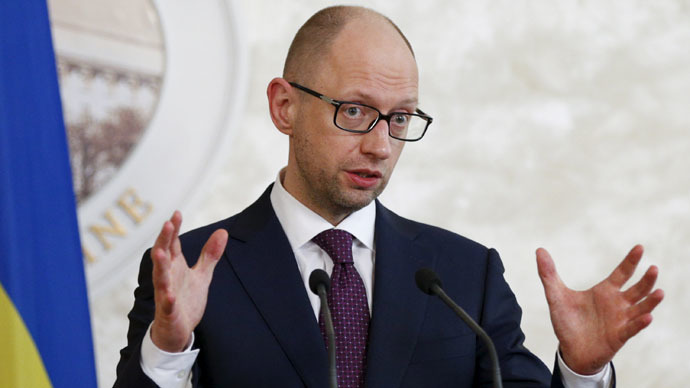 Ukraine's Prime Minister Arseny Yatsenyuk hopes to sell the country's state-owned companies to the US. American investors will get the assets "on the most transparent conditions" if they decide to invest, he said.
The statement comes ahead of a Ukrainian-American investment conference in Washington on July 13.
"We want to start the privatization process… We want to see American owners on the territory of Ukraine, they will bring not only investment, but also new standards, new ways of managing the companies, and a new investment culture," Yatsenyuk was cited as saying during his meeting with the representatives of Ukraine's diaspora in Washington, UNIAN reported on Tuesday. Yatsenyuk and Ukraine's Finance Minister Natalia Jaresko are in the US capital on a working visit which will last until June 10.
The massive privatization process of Ukraine's state-run assets is planned for the second quarter of 2015. In April, the Ukrainian government decided to hold a number of investment conferences in Berlin, Paris and Washington to attract investors and to spread the privatization idea. The Prime Minister then said they expect to see American and European entrepreneurs in agriculture, energy, especially in the modernization of the Ukrainian gas transportation system and the mining industry, as well as in other vital sectors of the economy.
READ MORE: Inflation in Ukraine to hit 46% in 2015 - IMF
Ukraine is facing a deep economic crisis with the country on the verge of a default. Earlier this month, the IMF's mission in Ukraine said the country's GDP is expected to shrink 9 percent in 2015, with annual inflation to hit 46 percent. Ukraine's total debt is estimated around $50 billion, $30 billion of which is external debt and $17 billion internal debt. Public sector debt rose to 71 percent of Ukraine's gross domestic product, and is due to rise to 94 percent of GDP in 2015, according to the National Bank of Ukraine.
Last year, Ukraine's President Petro Poroshenko invited foreign citizens to become key ministers in the new government of Ukraine, claiming that he views the foreigners as some kind of "anti-crisis management needed due to the difficult situation in economy". The natives of the US, Georgia and Lithuania - Natalie Jaresko, Aleksandr Kvitashvili, and Aivaras Abromavicius were approved by the parliament to head up the Ministry of Finance, Ministry of Health and Ministry of Economic Development, respectively. All of them have been granted Ukraine citizenship after a decree amending the law to allow foreigners into the government.
You can share this story on social media: